After consulting with focus groups, The Bank of Canada removed the image of a woman who was deemed to be too "Asian-looking" from the back of its new hundred-dollar bill. The original image was of a woman with Asian features using a microscope; after the revision, a woman with an ear-length feathered hairstyle and fair-skin is shown peering into the eyepiece of a microscope, i.e., a white women was used
instead.
See the final, printed image below.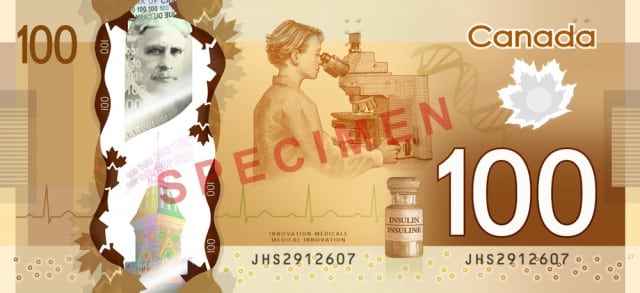 Focus group members gave various reasons for suggesting the change. One person said the original image didn't represent Canada; another individual asserted that including an Asian woman on the banknote without featuring other minorities would be "contentious." Not everyone requested a change, though. One focus group in Toronto not only failed to provide any dissent to the image, but revealed their feelings that the image was positive because it reflected Canada's diversity. But at the end of the day, the voices of dissent won out and the image was modified.
A spokesperson for the Bank said the image was changed to fit with Bank of Canada policy of not highlighting a specific ethnicity. The Bank of Canada said its policies are to avoid depicting any specific ethnic group in special designs.
By the Banks' reasoning, white people are not 'ethnic'. Whiteness is just a basic design color for people.
And all this time you've probably been thinking that black was basic.
It would have been nice if the Bank of Canada had been willing to either reflect the increasing diversity of their nation or pay homage to indigenous inhabitants of the land which eventually became Canada.