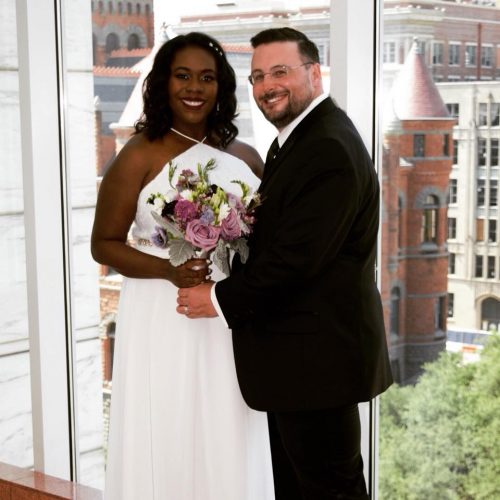 Dylan and Kimberly met when one of them was married. Both were in law school two decades ago and Dylan was married with kids. Upstanding man that he was, Dylan held true to his commitments and the two were just friends and colleagues. Fast-forward nearly twenty years, and Dylan was divorced and Kimberly hadn't ever married. The two had stayed friendly through the years, and they would often reconnect at lawyer-related events. Somewhere along the way, Dylan's feelings began to shift from platonic to romantic. Kimberly remained clueless about his frequent attempts to meet for lunch. Then one day, Dylan got up enough nerve to ask her out for a dinner date and put all his cards on the table. After a twenty-year casual friendship, Kimberly decided to give it a go.
It didn't take long for Dylan to realize he wanted to make Kimberly his wife. In true lawyer fashion, he proposed during their tour of the Supreme Court, where Loving vs. The State of Virginia settled the question of marriage among the races once and for all. Kimberly accepted and they soon married. But their newfound joy didn't stop there. They discovered they were pregnant…with TWINS!!!
Take a listen to their inspiring story.
It's the new year. Are you ready to find the love you've always desired? Check out InterracialDatingCentral, the official online dating site of Beyond Black & White.