When I received these wonderful wedding photos from a fan, I had so many questions. How did they meet? Who were those kids? What's the story?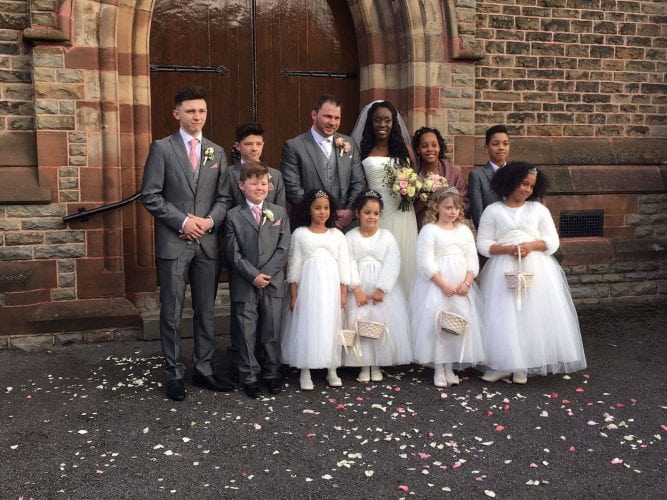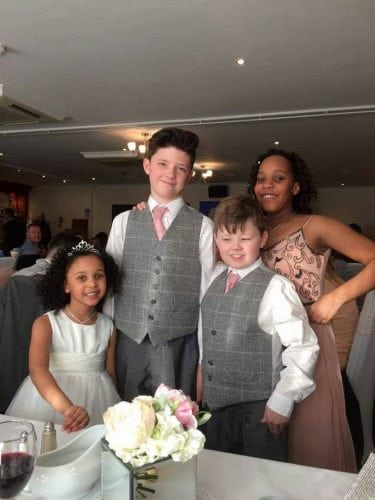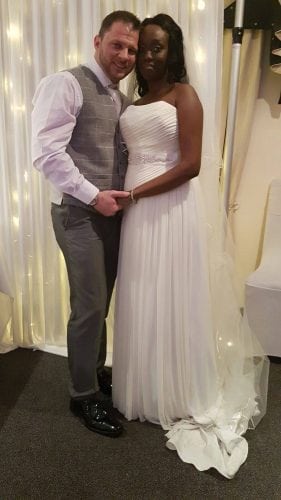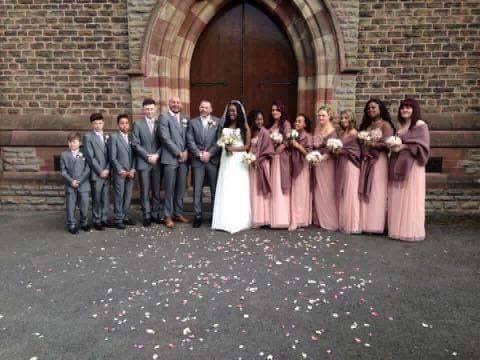 Steve's Story:
I have had four long relationships before meeting Maggie. Each one I convinced myself that I loved them. I was so desperate for what most of us want– someone to love and someone to love us, that I lied to myself that I loved them and I really believed that I did. I knew what love was, and what it is to love someone, but I learned when I met Maggie that love was something that I had never felt before. Maggie was my first love.

We met and there was an instant attraction, but I didn't want to love again and I was so confused about where I was going wrong and what had failed in the past that I pushed it to one side. Until one morning I lay asleep at her sister's house where me and a few friends stayed for the night after celebrating a birthday. It was time for me to get up and go to work. I had been working 16-18 hour days and no one could wake me.  They tried shaking me awake but couldn't wake me until Maggie came to the door and called my name softly and I sat straight up and looked at her. She walked over and sat beside me and asked if I was OK and told me that she was worried about me and I need to slow down with work.  I reached up and put my arms around her and she held me so tight and I was overwhelmed with love and fear at the same time.  Don't ask me how or why I can't explain it. But that moment took my breath away. I was overwhelmed with love followed by fear. I was so scared to let her go and afriad that I would never get to hold her again or that I would never feel this feeling of love again. We looked at each other and both started to cry. The rest is history and I'm here today because of her.

Please don't lie to yourself when you meet the guy/girl you are meant to be with. You will know without doubt or question you will know and thank God everyday for her because until Maggie came into my life I had no faith. I truly believe that only God could do this. I truly believe God sent Maggie to save me.  I am who I am only because of her. She made my life happy ,warm, loving and full. She pulled me out of the darkest,a and into the brightest of lights . She wrapped me up with her love me and my boys. She protects us all, keeps us safe she is the light the shield and the sword our protector , Maggie's love binds us; she is our angel, who has filled our lives with love hope and joy she is a gift from God, and we all love her so much.  She has made me a better person and better father. She loves me for who I am not what I was, not what I will become, not for what I have, but just me.

She is the strongest person I have ever met. My children, all three boys, adore her. She took my hand and walked me straight into God's love and showed me that throughout my life, when I was at my lowest,when my greatest fears where upon me and I would cry out, please God help me. Please God save my child, and he answered and saved my child and helped me when I needed him. Even though I didn't have faith, even though when he answered me in my most desperate times. I didn't see it I didn't remember that it was God, that I asked for and God answered me. Instead just believing everything worked out just because. She made me see that God has always been there, always loved me even thought I didn't pray to him, even thought I didn't worship him or to be honest, didn't allow myself to believe. Maybe I was afraid, I don't know. But I believe that everything that I have been though,every bad direction or path I have taken, the years of painful hurtfull relationships was God preparing me, teaching me, guiding me to the point in my life where I was ready to meet Maggie,so I would not make the mistakes and be worthy of the love, from one of his angels and for that I will be eternally grateful and humbled by his love and faith in me.
Such a sweet story, and proof that a black woman with kids can indeed, marry and be in a happily blended family. Steve and Maggie met through friends, and that's an oldie-but-goodie way to meet "warm leads." However that should only be one hammer in your tool kit. To reach the maximum amount of men and thus have the ability to have the most comprehensive choices, online is a good back up. InterracialDatingCentral.com is our recommended site.
Pssst! Have you heard about our four-hour series highlighting interviews and insights on black women dating and married to Asian men? Check it out here.