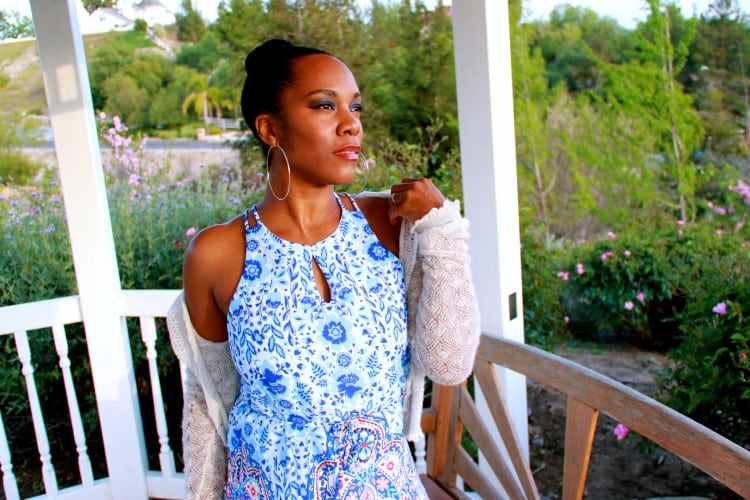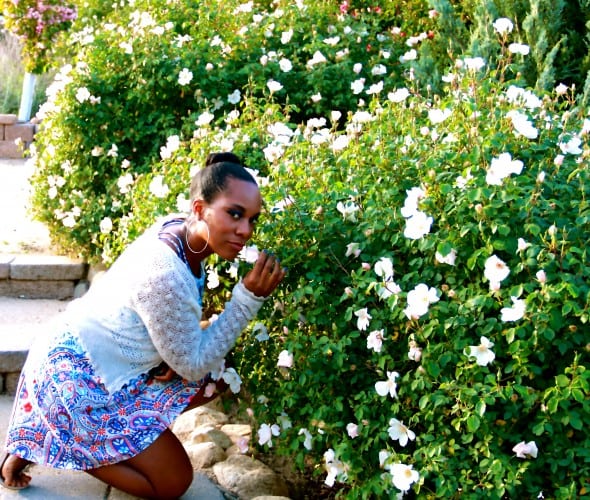 I love spring. It give us the chance to mimic all the colors we see in nature in our makeup and dress. And even though I live in California, where you think it's perpetually spring and summer, make no mistake that there are distinct "seasons," and the sun tells us which one is up. At this time of year, the days are longer, and the sun lingers in the sky and bathes the flowers with glorious light. The sky seems bluer against the yellows, reds and oranges in the sunset–perfect for a spring look.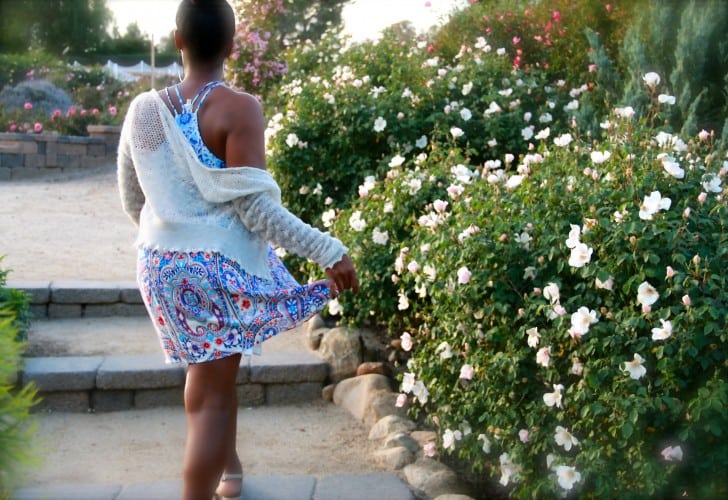 I was inspired to do this look when I looked on ModCloth after a long-time BB&W fan discovered I love vintage looks with a feminine feel. It was love at first sight when I saw the Vim and Villa dress, which is an A-line dress with a narrow cut at the neck with a peek-hole to break up the lines of my broad shoulders. It has a belt tie, but it's optional and you can do without it if you want a more 70's type feel. The bottom flares out slightly so it's very forgiving of "flaws," if you get my meaning! 😉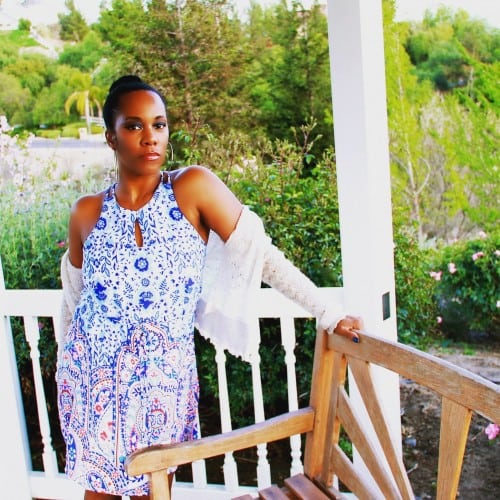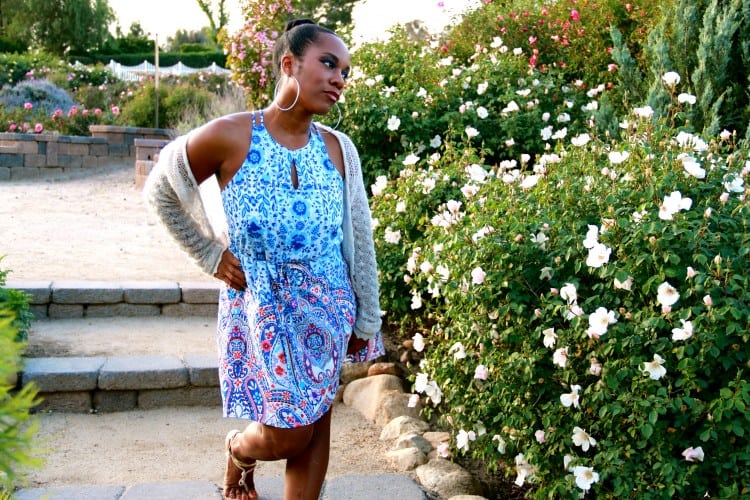 I'm wearing a size medium, which, based on my measurements (28 waist, 34 bust) would be a small, so make sure you refer to the size chart before you purchase. It's a no-iron dress and 100% polyester and lined, which makes the dress drape beautifully.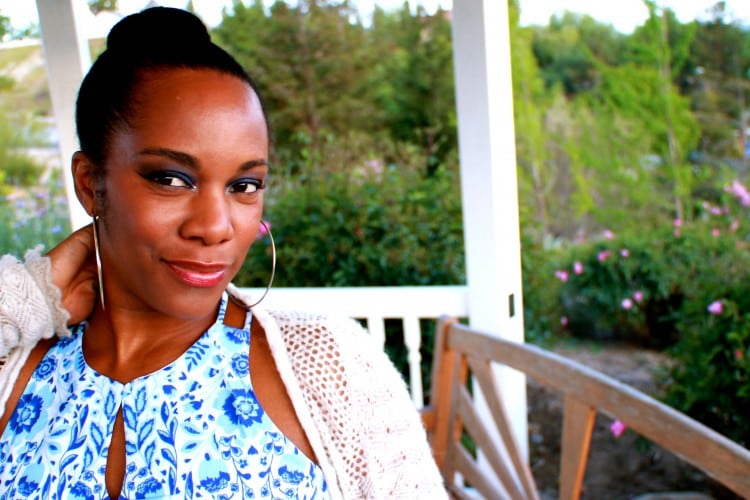 The Makeup:
I was inspired to do my makeup to match my outfit, and got a chance to wear the jewel-toned, electric blue cream shadow I got from Au Naturale, and because I always like to wear a lighter lip with a bold eye, I opted for the Au Naturale in Larkspur, which is a navy blue with shimmer and 100% Pure's Pigmented Lip and Cheek Stain in Cherry, which gives just a hint of natural color with one application, but is build able to a deep red if you keep applying. I like to keep it sheer because the stain mimics the natural blush of lips, and then I finish with a little gloss.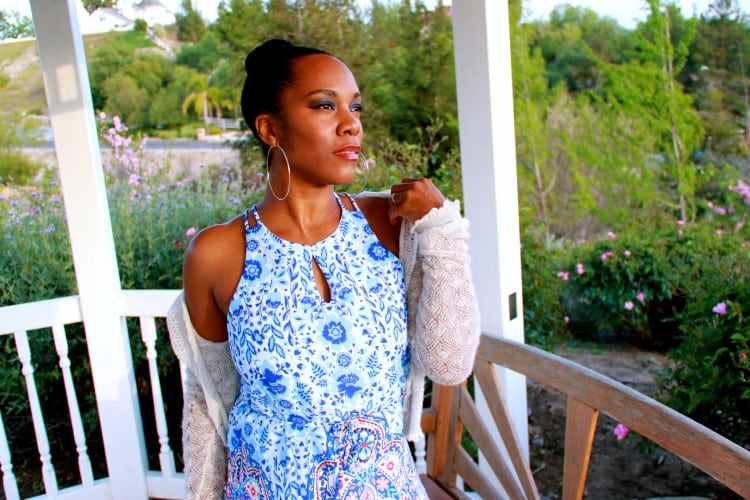 I wasn't going to leave my nails out of the look, and Mineral Fusion fit the bill with a beautiful true crimson red that gives an amazing gloss, even on the first application.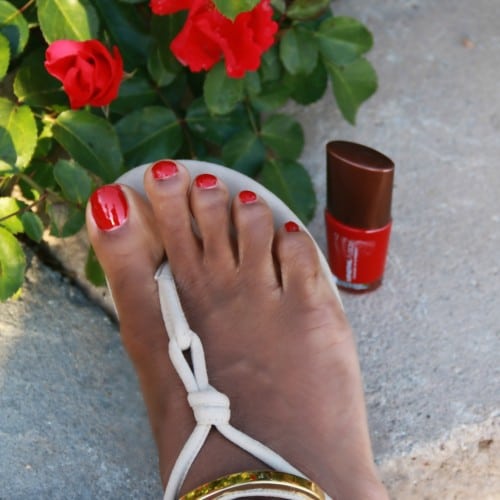 I decided to be a bit rebellious and a teal blue called Sapphire Dream. This one required a second coat, but it left a nice finish.