There's two products I've been combining lately to shrink open pores around my T-Zone. I hate that I've had to use artificial methods to "blur" their appearance while note properly addressing the problem.
Why We Have Large Pores, and How to Minimize Them.
There are two main factors that contribute to large pores: genetics and age. People who have skin that is naturally thick and oily tend to have larger pores. As people get older, too, sun damage and decreased skin elasticity can cause pores to dilate. The skin thickens, causing tiny cells to collect around the edge of the pores and make them look larger.

Blackheads are also a big contributor to large pores. When the pore becomes clogged by dirt and bacteria, oil within the pore begins to accumulate, causing the pore's diameter to expand.

Unfortunately, there is no way to permanently shrink large pores. The good news is that the appearance of large pores can be greatly reduced in a number of ways. For example, cleansing the pores of debris, excess oil, and bacteria will significantly reduce their prominence. This can be achieved by using a low-strength topical medication or face wash containing retinol or vitamin C. These antioxidants help the skin increase collagen and elastin production while simultaneously loosening dirt and oil from the pores.

Exfoliation can help in minimizing the appearance of large pores. This can be accomplished using an at-home facial scrub or by visiting a spa or dermatologist for a microdermabrasion treatment. Microdermabrasion is a special type of facial that gently scrubs off the dead surface lawyer of the skin, revealing softer, healthier skin beneath. [SOURCE]
So…okay. Looks like I'm stuck with the large pores, but I can reduce the look without makeup, and I have. I'm using a VERY POWERFUL, yet completely natural mask to suck out impurities. I actually can't believe how STRONG this clay is, and all the tingles I feel when I use it!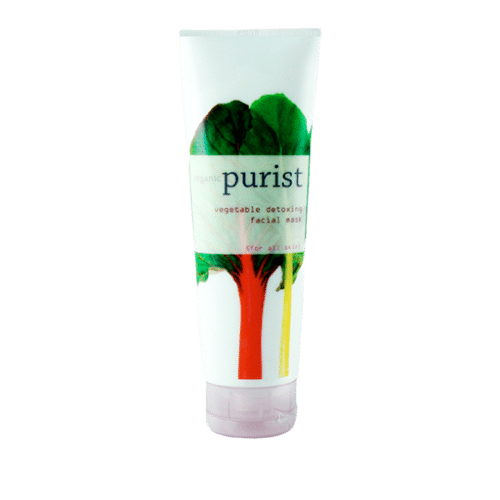 Check out the kick-arse ingredients:
Extracts of Fucus Vesiculosis (Organic Kelp), Spinach Oleracea (Organic Spinach) Leaf, Brassica Oleracea Acephala (Organic Kale Powder) Leaf, Solanum Lycopersicum (Organic Tomato Powder) Fruit and Hordeum Vulgare (Wheat Grass) Powder, Ascorbyl Palmitate (Vitamin C), Retinyl Palmitate (Vitamin A), Ubiquinone (Coenzyme Q10 from Olive Oil), Thioctic Acid (Alpha Lipoic Acid from Spinach or Broccoli), Red Wine Resveratrol, Montmorillonite (French Green Clay), Tocopherol (Vitamin E), Extracts of Coffea Arabica (Organic Coffee Cherry) Leaf/Seed, Euterpe Oleracea Pulp (Organic Acai Berry), Camellia Sinensis (Organic Green Tea) Leaf*, Rosemary (Rosmarinus Officinalis Leaf), Oregano (Origanum Vulgare Leaf) and Thyme (Thymus Vulgaris Flower/Leaf), Mentha Piperita Oil (Peppermint Essential Oil), Fragrance (Parfum, Natural Source), Lonicera Caprifolium (Japanese Honeysuckle), Geraniol**, Limonene**, Linalool** * Certified Organic **component of natural essential oil
and then I'm following up with…
Coffee grounds.
And…stuff.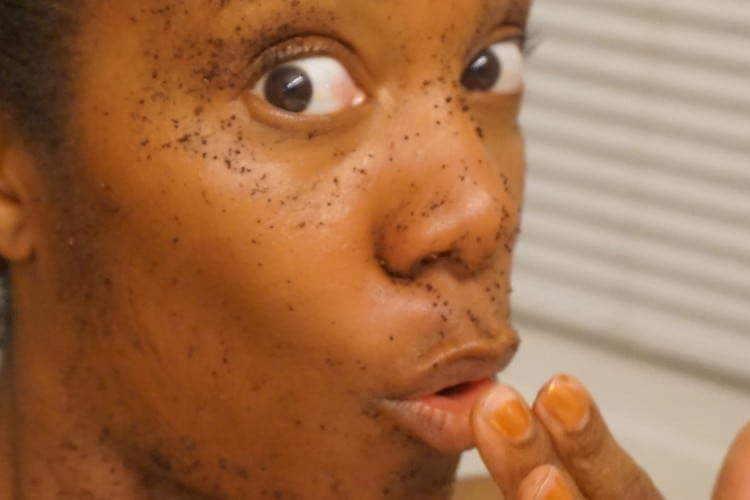 Yes. That's coffee on my face, along with coconut flakes, coconut oil, lime citrus and Himalayan sea salt.  Yes; you could make it yourself, but it definitely costs you less when you get it at Borikabody.com.
The caffeine in the coffee helps and tighten and brighten my skin, and the grounds work as a mechanical exfoliator to slough all the goop that I just drew out of my pores.
I did this very routine right before I took these…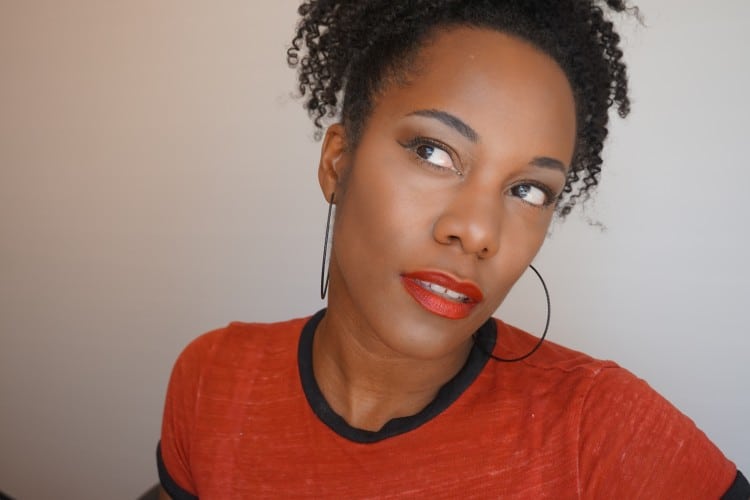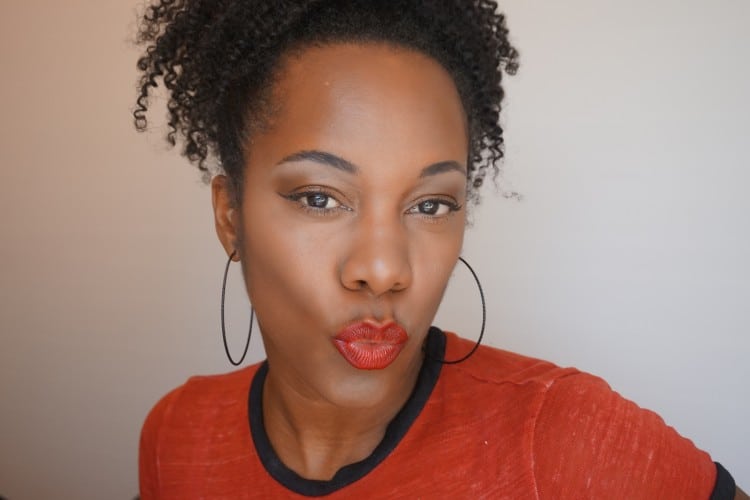 #nofilter.
Doing this heavy-duty routine is good to do about once a week for moderately oily skin, and twice a week for very oily skin with large pores.