Please note: this page contains affiliate links.
Interested in dating a Christian man or woman? Read on now for all the Christian Dating Advice you need if looking to take the plunge in search of new love.
Listen up – Christian Dating Advice


You might need some Christian dating advice if you are looking to start dating a Christian man or woman. This experience will be different from all your other relationships. Here, you will get answers to your urgent Christian dating questions, learn where to meet a potential Christian partner, and some important Christian dating rules
It's okay if you feel a little intimidated about starting a relationship with a Christian man or woman, but with the right tips, you can make it work.
The Most Common Christian Dating Questions


Are you considering getting into a relationship with a Christian? If yes, there are questions to ask when dating Christians. These questions include:
What is Christian dating?
What to expect when dating a Christian man?
What to expect when dating a Christian woman?
Your relationship with a Christian partner should proceed smoothly once you can successfully answer these questions.
The Specific Christian Dating Rules
Christian dating principles are different from every other relationship. This is because your potential Christian partner is guided by a set of dating rules from the Bible. For one, their idea of sex and intimacy might be different from that of non-Christians. Christians are more likely to practice abstinence in relationships. You should expect Christian dating boundaries from the beginning.
Most Christians court, which means dating with marriage in mind. The relationship may not ultimately lead to the altar, but the motive for dating would be there from the beginning. This is not always true for people who aren't Christians, as they can relax and date just for the fun of it.
Dating a Christian will also mean knowing and accepting their faith. The goal is not to go into the relationship and try to change them or convert them. Your role is to love and embrace their way of life. What you see in the beginning is most likely what you'll get till the end.
What to expect when dating a Christian woman
Dating Christian women is markedly different from dating women who aren't Christians. You should expect a lot of modesty in both dressing and values. These are not the women who will party with you till the early hours if that's your thing. Also, Christian women are surrounded by their congregations and their families, both of which work to make sure these women don't stray too far from their faith.
Dating Christian women means that you've accepted their faith, and you won't have a problem if they proclaim their Christianity everywhere. Christians are never shy about their faith! Also, it won't be too out of place if your Christian girlfriend wants you to come with her to church. How you respond to her invitation may be a key factor in ascertaining whether the relationship progresses.  
With Christian women, it is natural to see a greater degree of parental influence in their lives. This is not to put down their level of independence, but rather, illustrate their closeness to their families. The Bible emphasis respect for one's parents, so don't be surprised to see this play out. Another important sphere of influence is their congregation, especially the leaders.
Christian dating advice for dating Christian women is simple: adjust to fit in with their beliefs.
What to expect when dating a Christian man
Dating Christian men is easy if you know what to expect. For one, a Christian man will most likely prefer dating women whose dressing and character mirror his beliefs. A Christian man wants someone that can effortlessly blend into his lifestyle.
You should also expect a Christian man to invite you and everyone else to church. Remember, they will not hide their faith, so you should be comfortable with having them openly express their beliefs. Expect some degree of parental influence because Christian families tend to revere parents. This is the core of their beliefs.
Important dating advice for Dating Christian men is that their faith may prohibit them from going to some places and enjoying certain activities. If they don't drink alcohol or party, then you'll need to cross these common couple activities off the list. If they don't eat certain meals because of their faith, then you too might have to revisit your menu. You should understand that they will not be available to you every day of the week because their days of worship will be held higher than the fun trip you had planned.
Where to meet the Christian partner of your dreams



You can meet Christian partners everywhere, of course. But, the chances of running into Christians will be higher in some places more than others.
The best place to meet your potential Christian partner is obviously a church. You can put on your Sunday best and head out to your local congregation. This is strategically placing yourself in the path of your future Christian beau.
There are religious events happening every week around you. All you have to do is look. You will have fun attending conventions, crusades or fundraisers. Truth is, Christians are welcoming, and they will go all out to accept newcomers like you.
The most amazing way to find your future Christian partner is online Christian dating. Here, the stress of having to physically go out gets reduced. There are numerous Christian dating sites, and sooner or later, you will swipe right into the heart of the one. Christian dating after divorce is possible. If you're looking to find love again, don't despair. No one will judge you.
Dating Christians on the internet
Thankfully, many Christian dating sites have sprung up in the past few years. The more the merrier! It is now very easy to meet someone through dedicated Christian dating sites. You can find Christians on Christian dating sites like ChristianMingle.com, ChristianConnection.com, and DateChristianSingles.com.  
What is the best Christian dating site?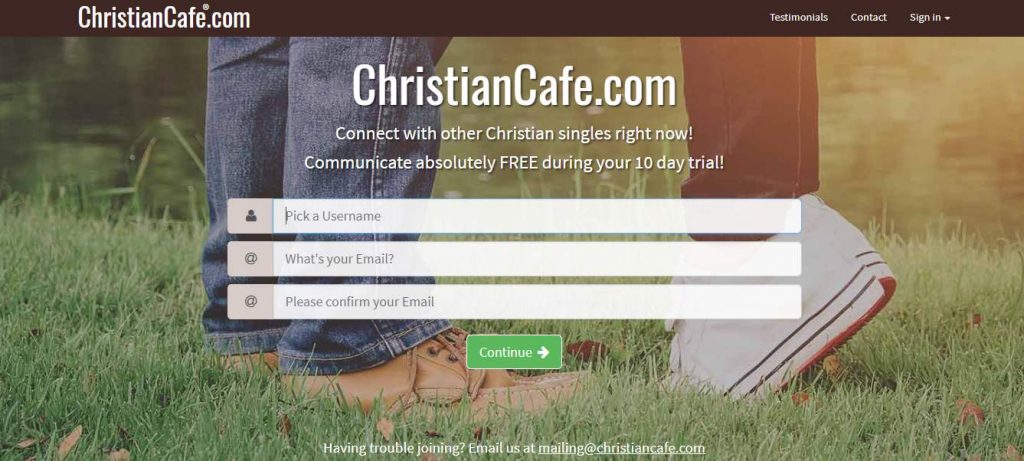 Screenshot from https://www.christiancafe.com
In my opinion, ChristianCafe is the best Christian Dating site for those who want to find and date Christians.
ChristianCafe.com has a broad range of registered Christian singles. You will find potential Christian partners from different denominations, ethnicities, cities, and even countries. Christian Cafe is totally free, so finding singles in your area has never been easier.
If you're looking for what is the best Christian dating site, then you should heed our Christian dating advice and give this site a chance. A swipe will convince you!  
Good luck finding your dream Christian!
There are millions of Christian men and women looking for love, so finding someone shouldn't be that hard. All you need to know is where to look and how to behave when you're in a relationship with a Christian.
Now that we've armed you with superior Christian Dating Advice, we hope you'll go along and use it to find your Christian dating partner.