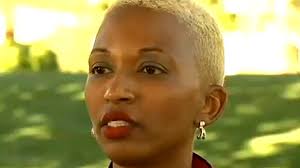 A dedicated teacher with a Phd in her field is a dream for any public high school, right? Unfortunately for Dr. Cicely Cobb, it was a nightmare.  She alleges that students and administrators at Ahwatukee's Desert Vista High School created a hostile work environment for her for one reason only…her race. Since she did not want anyone to get away with the abuse, she filed a lawsuit against the high school and the Tempe Union High School District. Just in case you are tempted to accuse her of playing the race card, take a look at some of the accusations:
On twitter, students "advised" her to sign up for an all black dating site.
Another student tweeted "I think I accidentally took Dr. Cobb's class on black history, instead of junior English," and attached a minstrel like image of Dr. Cobb.
A picture of Dr. Cobb waiting for a bus was tweeted with a caption suggesting she was working as a prostitute.
To make matters worse, it's alleged that some parents actually "favorited"  the racist and sexist tweets.
Still not convinced that her accusations are true? Check out this video:
That should be evidence enough for any critical thinker. Two white thugs get up in her face, one taps her on the head with a bathroom pass. Sick!
We know that it would benefit black women to go out into the global village and take advantage of all it has to offer. But how do we reach women that have suffered interracial trauma? It's not enough to dismiss every woman as a mammy, mule, ride or die chick, or black man only. You should consider the fact that some black women have a lot of racial hurt and pain to overcome. Some of us might "remind her" of our toxic experiences from other blacks but we should not allow such reminders of INTRAracial trauma to silence her. She has suffered just like you and her experiences need to be addressed as well.
White racism exists and will continue to exist. In spite of it's existence, it is in the black woman's best interest to venture out into the global village.  What are some ways that we can encourage women still hurting from experiences with white racism to avoid limiting herself to the black collective?