We're on a mission to rebuild all the "Happy Couple" photos and stories we collected on our original Beyond Black & White fan page! These stories are essential…they're encouraging, enlightening, uplifting and empowering to our community. We suffered a terrible loss when the trolls were successful in shutting us down.
We'll be back and bigger than ever, and to sweeten the pot, anyone who submits happy couple photos along with the story of how you and your partner met between now and November 25 automatically gets entered to win a $100 Visa gift card. The winner of the contest will be selected by the number of "likes" and engagement on our new page, Beyond Black & White The Rebirth.  Runner up will receive a $25 Visa gift card.
To get an idea of what we're looking for, check out our first submission.
Hello, my name is Bill Watson. I live in a little town called R
ockland, PA. Rockland is a little farming community that dosen't have a post office so our address is Emlenton, PA. I live on a farm that my ancestors settled. Our county courthouse has a map from 1825 that shows our family on it. We live in a all white community. My grade school and high school was all white!  I remember in grade school, learning about slavery and was the first time I ever seen a black person. Before then I just thought everyone was white! 
The first time I saw a picture of a black lady I remember thinking,
"Why would, and how could anyone be so cruel to the most beautiful thing God ever created?"
 Since then, I had always wished I lived in a unsegregated community. I didn't realize back in the 70's things didn't change much. As a kid, I thought racism was over. It wasn't til I got older and watching the news that I realized we didn't go far from the slave days!So not knowing any Black girls, I dated a few white girls, but always ended up feeling bad for them cause my heart just wasn't there. I used to go to Franklin,  about 20 miles away,  just hoping to see a black girl in the supermarket! But it seemed all the black girls left that town when they got of age or just stayed home.  I would see black men but never black girls.I did meet a black lady in Franklin and we dated for awhile but she had children and alot of daddy drama. So I started going to Meadville  which is is about 45 miles away. I met a black lady there and we dated but she also had alot of baby daddy drama and she drank too much! Then my brother told me I should get a computer. So in 2006 I got a PC and didn't know even how to turn it on! Anyways, I would see dating sights on tv commercials so I thought, why not? I met a black lady from Meadville on a regular dating site and we started talking. We started dating, then I learned she was married! So I broke it off and I thought to my self, "I'll never find my true love." I was so sad and I promised myself I wasn't going to settle for a white girl when my heart was for a black girl cause that wouldn't be fair to the white girl and I could never truly be happy. I would watch movies about black women and white men and think how wonderful that must be! Then one day I found 
InterracialDatingCentral.com.
  I looked through the site and I came across the most beautiful lady I've ever seen. She was in Chicago and I was intimidated cause she was in a big city and I was just a poor country boy living in a farm town! I went on past her profile and I kept thinking of her. So a week or so later I thought why not. Won't be the first time I been ashamed!To my suprise she answered me back. I remember thinking to myself this must be a scam?!!  No one that georgous would ever give me the time of day! So we started talking and it turned out she was from Lusaka, Zambia. She was raised in Lusaka and always remembered as a child liking white boys and always wanted to come to America!
Lusaka is the capital of Zambia and a city so she was raised with all races of people. She came to America at 18 through a church program. She lived in NYC,Oregon, California and then Chicago.She never lived in the country. I never been out of my county hardly let alone on a plane! After talking for months online and telephone, she flew to Pittsburgh  and I had my one brother that was a truck driver to drive me to the airport. She came for the weekend, and a month later moved here. We are married and I adopted her daughter from her first marriage. We had a daughter together and we are one happy family! I thank God everyday for the blessings he gave me. Who would ever think a poor farm boy from Rockland would ever marry a African Queen from Zambia. I didn't share my story for the prize I just wanted to let people see never give up you will find your soulmate as I did!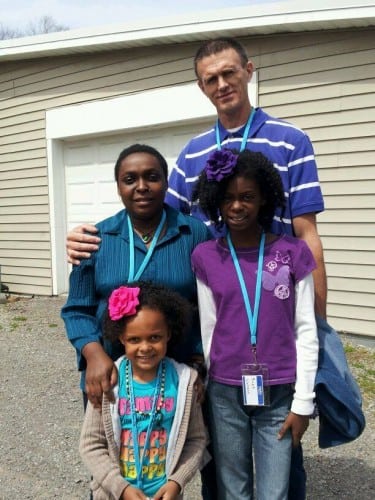 ————-
That story is so stinkin' sweet. Humble farm boy meets his African princess.
Now what are you waiting for?! Send us your story via email at [email protected].