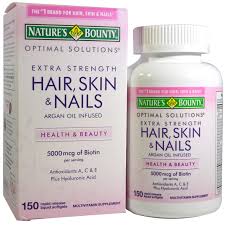 I've previously been a buyer and reviewer of several (high) priced hair, skin and nail vitamins in the past, and while those did have some benefit to some degree, they were quite expensive. With a kid in college and lots of other business costs, something had to give. One a whim, I decided to try Nature's Bounty Hair, Skin & Nails when there we a buy one get one free sale at Albertsons. My hair was in braids, so I really wasn't expecting to see much progress. But then I noticed my nails…which are usually stubby and short because I garden and wash dishes without gloves…growing at a healthy rate. My toenails too.
Then another pleasant surprise..my eyebrows, which are pathetically skinny and always in need of filling, were becoming bushy. My armpits and legs needed more frequent shaving. I was pleasantly surprised. As an added bonus, it contains argon oil and antioxidants like Vitamin A, C & E, all good for the skin.
So guess what I did? I reordered. On Amazon. For $11 and some change. Could it be possible that a vitamin that ACTUALLY grows out your hair and nails could be so cheap? Well…yes. At least for now. Compare that to a one month supply of Hairfinity for $25, or a two month supply of Phyto hair vitamins for $60 (by the way I've used these and saw no real improvement in my hair situation) and the $11 I paid for 150 capsules at two a day, and you're talking about real savings coupled with real results.
Yes; it's more annoying to have to shave my legs and pits more frequently than usual, but I would say that's a nice problem to have, wouldn't you?
Follow Christelyn on Instagram and Twitter, and subscribe to our You Tube channel. And if you want to be a little more about this online dating thing, InterracialDatingCentral is the official dating site for this blog.