Interracial romances are the hot thing to download of Kindle these days.  I have a hunch it's because some folks like to read about other folks getting hot and heavy before they venture out to do the same. It's a way to live vicariously, dip your toe in, and give you fodder for your self-pleasuring devices. So when author Lonaire Drummond offered to give BB&W an exclusive peek into her book, "Dirty Secrets," I was more than happy to oblige.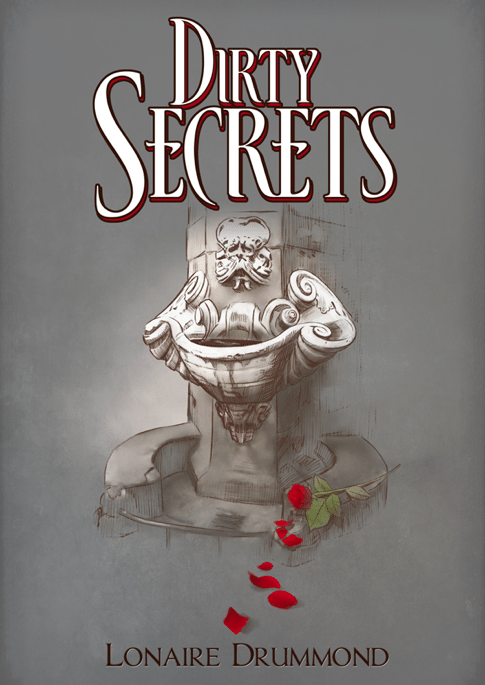 Here's a summary:
Under the maniacal rule of her crazy boss–toilet paper titan–Mindy Corentini, Adele Jaspers is overworked, under-appreciated, and has no time to date. After a narrow escape from a crazy homeless man on a New York City subway train, she has little patience for her boss's antics. One confrontation away from exploding, Adele does the next best thing, she quits. What does Adele do with her new-found freedom? She takes an impromptu vacation to St. Lucia where she begins a whirlwind romance with an Italian corporate raider, Ambrogio Argentero. Rich, handsome, and arrogant, he lets nothing go to waste. However, his family has some dirty secrets, some of which might get her killed–Renaissance style.
With out further ado, feast your eyes…
"Why are you so cute?" She had said the word out loud and her face burned with embarrassment instantly. 
"You think I'm cute?" 
"Get over yourself."
"I rather be over you." Ambrogio moved close enough so she could feel the heat from his mouth on her lips.
"What are you doing?"
 He stared her down but said nothing. In the next breath, he grabbed her face, held it steady and licked her just a bit shy of her lips. 
"You taste better than I could have imagined."
"Have you lost your mind?" Her hand touched the spot where his tongue marked her.
"You had some whipped cream from your chocolate cappuccino there. I never let anything go to waste."
  Adele shifted in her seat. The moisture in her panties made it uncomfortable for her to sit.  Before he assaulted her senses again, Adele did what she does best–she changed the subject.
"Your grandmother is taking a long time in the bathroom." Adele said.
 "Shit!  You're right." The alarm in his face started as a spark then grew into a four-alarm fire in a matter of seconds.
Adele followed Ambrogio as he sprinted from the table. "You can't go into the woman's bathroom." 
"Can you go, please?" He had a vulnerability about him Adele found endearing. 
"Of course." Adele said.
 Sure enough, Adele found Felicità in the powder room staring at herself in the mirror. She stayed perfectly still when Adele called her name.  Adele reassured an uneasy Ambrogio before she approached the sick woman.  
"Sono vecchia. Quando sono diventata vecchia?" Felicità asked. 
"Non sei vecchia. Sei molta bella." When her attempt at comforting Felicità failed, she led her out of the bathroom and into the arms of Ambrogio. 
"She thinks she's old. She was examining her face in the bathroom mirror." 
"Voglio ritonare a letto, Ambrogio," Felicità said. 
He dropped a tender kiss on her forehead and walked them out of the restaurant.  Ambrogio deposited his grandmother in her room as she requested with strict instructions for her nurse to watch her at all times.
"Thanks for breakfast." Adele started to walk away when Ambrogio grabbed her arm. 
"Do you need something?" She immediately regretted her words when his light green eyes turned a dark emerald shade.
"I want you."
"Come again?" 
"I want you to come with me."
"I don't want to go anywhere with you," she said with so much force, he stepped back and out of the way of her ire.
"Why are you so combative?"
"I'm not combative." She knew otherwise, but she wasn't about to admit her faults to him.
"Then come with me. I planned a tour of the island. Of course, nonna cannot come." 
"How presumptuous of you, I might have plans." Adele said.
"What do you have planned?"  Ambrogio said.
"Not at this moment, but you can't just assume…"
"Americans talk too much." He bent down at her waist and hoisted her over his shoulder, fireman style. 
 You can buy the full version now on Amazon here.