"I'm a God fearing woman!!" You sound like the church lady who wears too much White Diamonds. A cloistered cold fish who thinks sex is only for making babies. A fire-and-brimestone type of Christian that likes to scrub the "sin" off her children in the bathtub with a boar's hairbrush. In short, you sound crazy.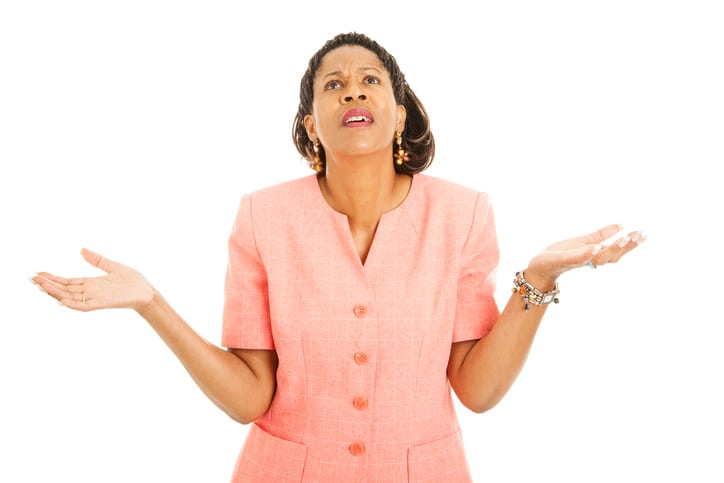 I lose followers every. single. time. I mention this, because they think I'm attacking their faith. I'm not. Have all the faith you like. Have it in abundance. But seriously…what are your goals–looking good for Sister Churchy or snagging a quality man?
If you want to have any kind of luck finding a man online, your opening line shouldn't be that you're God fearing. You may think that's keeping the creeps away, but it's not. More than likely, it's totally repelling quality men who might even feel like you do, but just without the whole "Dante's Inferno" vibe.
The term, "God Fearing" even sounds old. Like you're an old, uptight lady with spiderwebs on your girlie parts. You could be the life of the church picnic, but you write that and you're immediately relegated to the Senior Church Mother's Auxiliary Board, complete with the gigantic white hats and sensible shoes.
It's not that you can't be enthusiastic about your faith. But let's face it–"God fearing" really doesn't have much of a positive connotation. Honestly, I struggle with why so many feel the necessity to proclaim this right from the start. Like, can't you let it wait until the first few interactions and within natural conversation to allow for context?
Sometimes I wonder if this term is used in order to subtly inform potential suitors you're not a slut, which is totally unnecessary. He'll find out soon enough. At best, it's unsexy. At worst, predators know that's lingo for "you're a lonely cat lady."
So as I write, research, and refine an online book dedicated to getting you more dates, keep this little tidbit in mind, ummkay?  If you absolutely HAVE to mention your faith, why not keep it positive? A compromise might be, "God is my guide, but I'm far from the church lady." Something like that. Please.
My buddy Kendall St. Charles said it like this…
When I was online dating sites I would SPECIFICALLY state that I was NOT interested in Christian men and they would seek me out even more!! They talk all this 'God' crap but they want women who ain't about dat life. When I put that I was a devotee of the Divine Feminine, I got men of ALL faiths hitting me up. Men are more attracted to YOUR embracing of femininity then they are you believing in a masculine deity. Men want women who love feminininity, sexuality and beauty. They SAY the want a 'God fearing' woman, but what they REALLY want is a woman who will make THEM feel like a god. Leading with your devotion to another man (Jesus) ain't a turn on. Take it from a life long HEATHEN who's had to beat Christian men off with a stick.
To get on the mailing list to be the first to receive the guide, Online Dating: Glamorously, click here and join our mailing list.
Follow Christelyn on Instagram and Twitter, and subscribe to our You Tube channel. And if you want to be a little more about this online dating thing, InterracialDatingCentral is the official dating site for this blog.