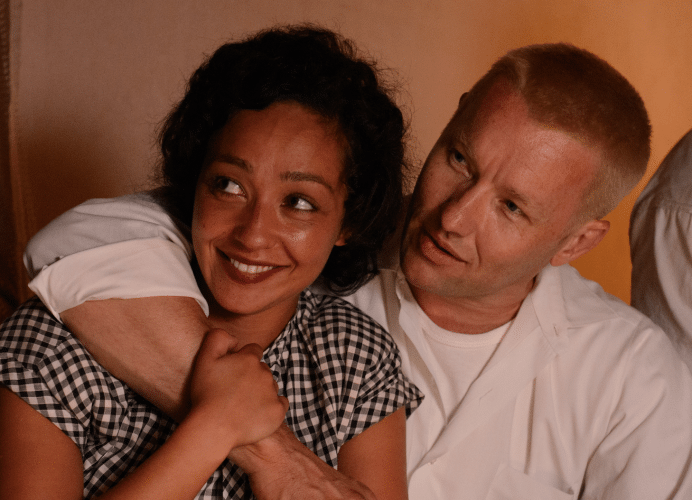 Ruth Negga (left) stars as Mildred and Joel Edgerton (right) stars as Richard in Jeff Nichols LOVING, a Focus Features release.
Credit : Ben Rothstein / Focus Features
Many of us in the interracial marriage community have anxiously awaited the Loving, the movie based on the landmark Supreme Court case with Richard and Mildred Loving versus the State of Virginia–two very simple people who changed the world as we know it. Written and directed by Jeff Nichols, who previously wrote and directed Shotgun Stories, Take Shelter, Mud, and Midnight Special, along with co-stars Joel Edgerton and Ruth Negga, the story is retold in such beautiful simplicity and truth.
What you'll probably be relieved to know is that Loving hasn't been Hollywood-ized. Nichols opts for telling a truthful story. So imagine my surprise when movie starts with Mildred quietly telling Richard that she's pregnant, and he decision to marry Mildred happened after she was visibly with child. I also was under the impression that the couple didn't know they weren't supposed to marry based on the Virginia slavery laws against miscegenation at the time–but it turned out they did. Richard knew, and that's why they took the drive to Washington D.C. where interracial marriage was legal.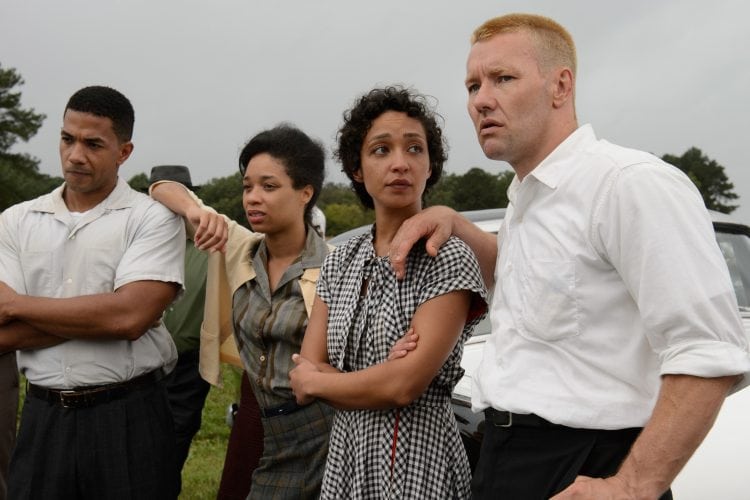 Ruth Negga (2nd from right) stars as Mildred and Joel Edgerton (right) stars as Richard in Jeff Nichols LOVING, a Focus Features release.
Credit : Ben Rothstein / Focus Features
There's a powerful scene where Richard and Mildred sleep peacefully and the police knock the door in and haul them off to jail for living as man and wife. They were both faced with a year in jail or take a plea deal to leave the state for 25 years and never be in Virginia at the same time. It's in those scenes you witness the legally-sanctioned blatant racism, humiliation and mistreatment the Lovings suffered. It's hard to believed we once lived in a world like that.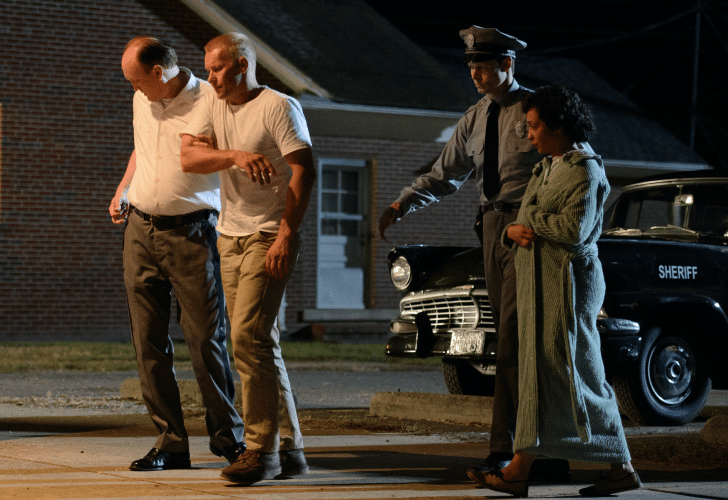 The movie was shot on location at Central Point, Virgina, where the actual events happened. When you see how the tiny, rural community filled with family and friends, room for car racing (a big hobby of Richard Loving) and open spaces for their children to play, the viewer understands why Richard and Mildred fought so hard to come back to Virginia instead of staying in the inner city of Washington D.C. where they stayed with relatives after being banished from Virginia.
Joel Edgarton (Richard Loving) and Ruth Negga (Mildred Loving) play the part so convincingly that they essentially disappear and the spirit of the Lovings manifest through these vessels. The quiet, simple love they share is artfully juxtaposed against the magnitude of their landmark legal fight, which is sometimes comically exposed when lawyers Bernie Cohen (played by Nick Kroll) and Phil Hirschkop (played by John Bass) try to explain the details and significance of their case. In the end, we see that Mildred is a country wife and homemaker of three, and Richard lays bricks for a living and simply loves his wife.
https://www.youtube.com/watch?v=PfvnUUZ7cIE
One scene is particularly gripping when Richard and his friends (all black) gather for beers and whiskey at a joint when Virgil (played by Will Dalton) expresses his dismay about why Richard won't just take the easy way out and divorce Mildred. "You white!" says Virgil, who goes on to say that every black person in the joint would love to be in his place of privilege, and while Richard has all these black friends, his whiteness gives him a privilege that everyone else around him does not enjoy. It's an uncomfortable scene, and Richard's character visibly squirms. Tough to watch, but there was a lot of truth spoken in that moment.
All in all, the movie is definitely worth the watch, but make sure you have your tissues ready.
Loving premieres in theaters on November 4.