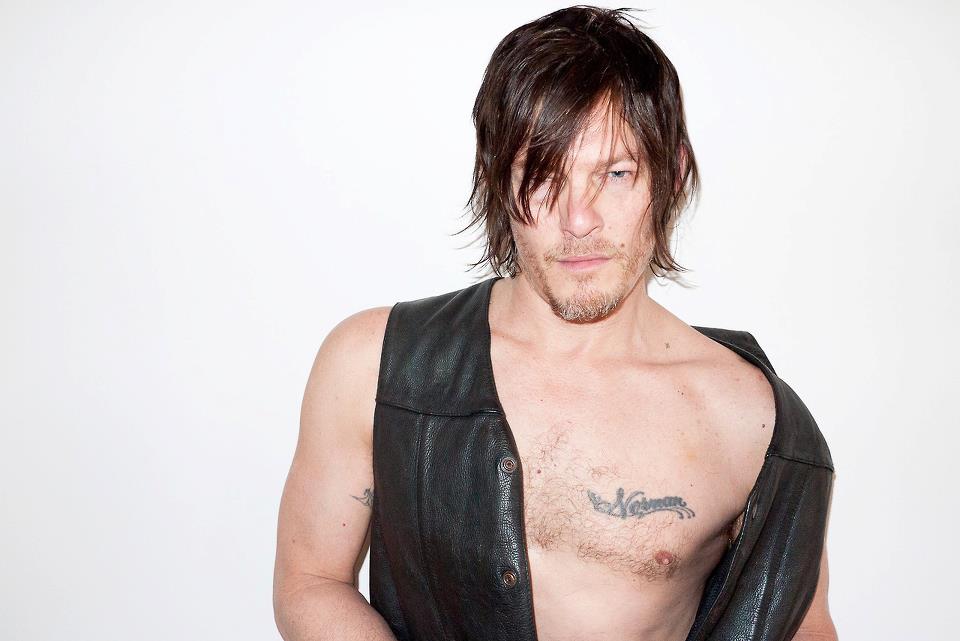 This just in…the subject of today's Man Candy Monday, Norman Reedus, is a resident of New York City and can be often found grabbing a cuppa coffee from around the way. He is also very single as per his Twitter stream. So I've decided to gather a team, intell will be distributed via Pig Latin on a balled up note that will be tossed at you and bounced off your head, and delivered by noon sharp to those who qualify.
And now back to Norman……….

Uh, I'm shy. I'm socially awkward. I'm a loner myself. I'm more of a listener than a talker. I value friendship—I'd do anything for my friends, and I think he's like that. I'm not afraid to take chances or go off on my own.

I'll go off in a direction and try something completely wrong, and learn my lesson, you know what I'm sayin'?
As I was saying, the 44 year old actor doesn't just come off as a 'regular guy' from what I've read so far, he's a down to Earth type who has the ability to connect with his audience even while playing roles that do not cast him in the light of shiny hero guy.
It is this complexity, the melding of suspicion, intrigue, and genuine curiosity, that makes him so interesting to watch on screen.
A fellow Capricorn, he shares a teenage son with his ex-flame, super model Helena Christensen, whom he was in a long term relationship with. These two co-parent their love child and remain close friends.

I must admit that I prefer him as he's aged.
Seen here in a Prada ad during his modeling days, I just can't seem to love the wanton, malnourished, semi conscious look he's giving up for high couture.

A photographer, cinematographer and producer in addition to his acting and modeling, he's also a sculpture, and painter whose work is seen in galleries in American, and Berlin.
He will release his first photobook on October 31, 2013. You can sign up for the pre-sale by visiting his production company "Big Bald Head" and checking out videos and interviews where he explains more about his project.
I'm loving his dark artistry, and his approach to photography. Having appeared in videos with groups such as REM and the Goo Goo Dolls, he played Judas in Lady Gaga's video by the same name, his choice of music video roles are just as macabre as is his artwork, it seems.
That makes fan girls of dark artistic types like me all the more eager to find out what pushes him to explore the beautiful side of the bizarre. He's inked and smokes cigarettes and that gives him extra points with me but maybe not you.
Nevertheless, everything ain't for everybody and the point of the entire thing is that men come in all sizes and flavors. You get to dig what you wanna dig..!
Mr. Reedus suffered a car accident several years ago that required his eye socket to be repaired with titanium and his nose to be put back together using steel rods. Those of us who can appreciate a man who is half flesh and half machine will find this little detail alluring.

I'm not one to care about throwback movies and had heard about Boondock Saints since its release in theaters though I never watched it. I did take the time to do so and not only was it a good movie (duh! TJ) but I recognized the potential of the younger Reedus and am not surprised that he is as celebrated as he is today.
Follow him on Facebook.
Watch the new season of Walking Dead now on AMC.