If you've been hanging out in the Beyond Black & White Google+ community over the last couple months, you got to witness this love connection go down.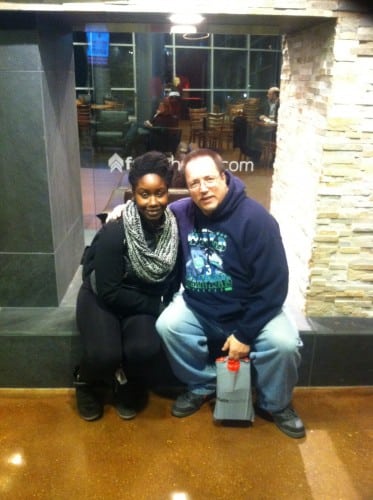 Michael, 49, lives in Rochester, NY. Kemi, 34, lives in St. Louis, MO. They started interacting with one another in November 2014 when, as Michael puts it, Kemi called him out on a comment he made about a selfie she posted. Michael says he was so "taken aback with that picture – all I could say was, 'If I wasn't so shy I would say …"
(Actually, folks, he wrote: "I am not gonna lie – I would hit on you in a second well if I wasn't so shy." Okay! I see you, Michael!)
Kemi's reply? "What would you say to me if you were not shy?"
"I had to answer or look real bad," Michael says. "And all I could say was those eyes. She has the most beautiful smile and eyes. And from there it has been a whirlwind."
This seemingly innocent bit of online flirtation launched daily conversations that eventually led to Michael's visit to St. Louis over the second weekend of January. With each new post, counting down to Michael's trip to Missouri to meet Kemi face-to-face for the first time, those of us in the Google+ community were cheering them on.
Michael and Kemi officially became a couple that weekend. The whirlwind continues.
Read on for more from Michael and Kemi about their story:
What drew you to him/her? 
Michael: Her smile, her personality, her outlook on life.  She is a great business person, a great mother, a great inspiration.  We have the same belief system.
Kemi: Initially the comment he made to me about being shy. I thought that was a cute thing to say and it made me smile. I love his eyes; they are filled with so much care and genuine love and boy does he have a lovely heart. He is completely open about how he feels. He's a loving dad to his kids as well.
So, Michael, what prompted the visit?
Michael: Kemi didn't want to date until after her daughter graduates from high school, and I pursued.  I truly believe God put her in my path. And I was the one who asked to meet her and originally was going to be in February. I just had to meet her, and originally was going to surprise visit her. Instead, I decided that I would do it right and flew in for a weekend a month early. And I am glad I did, I met a real lady through and through. 
Tell us about your first date: 
Michael: Well, my plane was rerouted and I arrived in St Louis 3 hours late. We went out for a late dinner, but in reality it was the next day. We went hot tubbing in the morning, went to see the St Louis Arch, found a speakeasy downtown in the Thaxton Building and I was like, wow, a building with my last name. Thought that was pretty cool. Had St Louis Pizza at Imo's Pizza – we ate the whole pizza – and we were still starving, so we went to Sushi & Hibachi and ate a ton more. Went to Barnes & Noble, and we went to church (the highlight of the day for me). It felt so comfortable being with her, holding hands in church and worshiping together. We bought devotionals that we do daily and then sat and talked 'til she fell asleep.  It was the perfect day in my eyes. I would tell the Wal-Mart story but if Kemi wants to share that I will let her. It was too funny. She got me good.
Kemi: (The Walmart story) Ok, since I'm a Zumba Fitness Instructor, my body needs a good soak in the hot tub every week. I invited Michael to join me. I don't like to use the towels that are available for members because the thought of using towels that possibly thousands of others have used, grosses me out…yuk! So we had to make a stop at Wal-Mart before going to the YMCA. He also needed shower shoes because who wants to shower shoeless in a shower stall that many others wash their dirt off at. So we picked him up towels and shower shoes. I hurried to the bathroom while he went to self-checkout to pay for his things. I got out of the bathroom just in time for him to pay. Just as I walked up to him, I asked him to hold my coffee and a couple of other things that were in my hand. I happened to have my wallet out so I paid for his things. He says that I got him good….lol.
What are some of the key values you share?   
Michael: Our faith in God, our ambition to succeed, entrepreneurs, our morals. I am a gentleman, she is a lady so much more. 
Kemi: I would have to agree with Michael: We love the Lord with all of our hearts, he's very important in our lives. We love our kids and are both loving parents who value parenthood. I will always be an entrepreneur and Michael has been one as well so he understands the importance and dedication that it takes, communication and commitment is important to us both. We talk about everything – important topics, the future, and we have fun conversations as well.
Future plans?
Kemi: First we plan to live in the same city. Michael has decided to move here (St. Louis), since my daughter is 16 and her dad lives here. They are very close but I want to raise her so I wouldn't want her to go live with him but I homeschool her and she has a wonderful set of friends and they are very close. Michael has little ones as well so it's possible that they will come with him. I'm a southern belle through and through so when my daughter goes off to college, I would love to relocate to Florida: beach, sun. Hot weather is where I want to be. Michael agrees. 
Any valuable lessons or words of wisdom for those still looking for love?
Michael: Never put a time limit on God – he does things in His time.
Kemi: Since my daughter is 16, I figured that I would just wait to date until she goes off to college. I thought that I would just be a great mom for now and then in 2017, I was planning on starting a new chapter in my life and opening myself up to love. However, when I least expected it….BAM…Michael appeared in my life! Enjoy your life to the fullest, really live like you have all that you want and wish for and the next thing you know it will just appear. I wasn't looking for a relationship at all and was enjoying and appreciating my daily life so much! I always call myself a boring old woman, trapped in a young woman's body because all I do is raise my girl, do my Zumba classes, (work on getting more clients) and listen to audiobooks, and a few more things here and there. Enjoy single life as much as you enjoy life with love. It's all meaningful and worth it!
The couple says they've gotten plenty of positive feedback from family and friends. They're definitely encouraged and celebrated in the BB&W Google+ community. Here's hoping that things continue to go well for them.
All the best to you both, Michael and Kemi!
Pssst! The Beyond Black & White Forum now has a personals page! Post yours for feedback, and maybe something else! Only paid subscribers have access to the VIP section.