Hello Christelyn , this is my journey to swirling.
My name is Neil and for as long as I can remember I've always liked black women , growing up in northern England was good but it lacked one thing Black Women lol. There was never a moment that flicked the switch so to speak I just saw women as women no matter the colour , that was until my mid to late teen's when I became aware of a English all girl group called Eternal who were made up of 3 black woman and 1 white woman. Add to that more groups like en vogue and SWV and I was hooked.
I actually stumbled upon the website which would change my life forever , it was called myyearbook and back in 2010 it was a lesser known facebook with lots of games. Nowadays it's a dating site ironically but I went there to play games and maybe talk to other like minded people. I started friend requesting interesting people and one just happened to be my future wife , I will always remember the evening in late February when Cathy (my wife) accepted my request and we had a little chat about nothing in particular. She did mention that she was having some Reese's Piece's (I'd never heard of them) and that has and always will stick with me.
We began talking online on a daily basis and soon after we made the step to talking on the phone , I was nervous and excited at the same time lol. After about a month of talking I knew she was the one and on top of that I found faith through Cathy. That is something I've never really had in my life before , when the woman I've been talking to for a month tells me she has been praying for me it pretty much knocked the wind out of me (in a good way). She's the one that got me my first bible and because of that my whole outlook on life has changed for the very much better. Even in the very early stages of our journey that black woman love and soul affects you and just makes you grow.
The next step was to webcam and again I was both nervous and excited lol , the first thing I noticed was how staggeringly beautiful she was even when the webcam was not at its best. Then of course was the hair change off screen lol , I thought it was her real hair and that just made me feel more closer to her. This was my first experience of the marvel that is black woman's hair and yes I am still learning to this day lol.  We started talking more and more about marriage and building a future together and possibly kids , at the time I was 32 and she 38.
Now telling family and friends about possible future plans was actually easier than I thought because I was now in the mindset of if you don't like it tough sh*t. When I told my dad all he said was he was happy for me and to be careful in Detroit lol and to be honest that's all I wanted to hear. My dad seemed to be the happiest for me , my mum and both sisters were kinda lacking his enthusiasm. I wasn't sure if it was for the colour of Cathy's skin or the 3600 miles away I would be living either way I just wasn't bothered as I knew I'd found my soulmate and queen.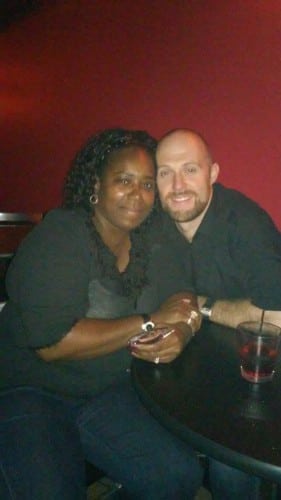 Anyway I arrange a trip for myself in June of the same year for us to meet in person for the first time , I remember counting down the weeks and days until the day finally came. I sent money over as Cathy had already found her engagement ring. We were looking into how I would come over permanently and we agree on a fiancée visa. Cathy started on the paperwork as I was preparing to bring some papers over in June.
June 18th 2010 finally came and I was so ready to meet my black queen in person , just a short 8hr flight to Washington with an hour stop over before onward to Detroit. A short taxi ride to the hotel and then the short wait before she arrived with my future mother in law and step son. The first thing I notice was how even more beautiful she was in person which I didn't think was possible. After saying hello's we were left alone in person for the first time ever and again I was nervous and excited. We both couldn't stop smiling and kissed and held each other as our soul's just entwined around us , so this is real love.
We had a bite to eat and Cathy gave me her engagement ring which I gave back to her a little later down on one knee when she was least expecting it. She said yes and called her mum who told her she was on her way to the hotel as she wanted to see me propose to her daughter , I've never heard of this before but who am I to disagree with my queens mother. So about 10mins later I was down on one knee AGAIN and got a 2nd yes lol. That week was fantastic and I did not want to leave but we did fill out all the paperwork for the visa to get started. We paid the fee and sent it off and I sadly returned to England , Cathy would check each week for updates on visajourney.com. So many older men trying to get young Asian women over , Cathy loved looking and reading all the comments lol.
The timescale for the visa paperwork was around 6-7months so we were thinking January time for it to be finalized all being well. Well it didn't go as smoothly as one would hope , firstly Cathy missed ticking a box and the paperwork got sent back to her before we could proceed. After a few months of waiting and getting little progress the paperwork was approved and was heading to the US Embassy in London. During this time we webcammed , texted (not cheap lol) and talked on the phone daily and began missing each other big time. One of the things that would make me smile was thinking about holding Cathy's hand in mine , seeing her dark fingers in my pale one's always did sometime to me lol still does and still don't know why.
I got a letter from the Embassy outlining what they needed from me , full police background check etc which I got in due time. This was now in mid February and we were thinking when would we catch a break. I was sent a letter saying I would receive an interview date within 2 weeks , those 2 weeks came and I received no letter. I called the number on the letter and I explained the situation and ask when my interview was , I was told yesterday ….. WTF !!!! I so dreaded telling Cathy that news because if you missed an interview it would put the process back by up to 4 months. I went to the local post office to see if any letter had arrived for me which it had but I never received it because someone at the Embassy had forgotten to put postage on it again WTF!!!! I told the post office to send it back so they could see it was there mistake and it worked as 4 days later I got an email requesting me to attend an interview the following Tuesday , good news at last. By now we had set a wedding date of May 28th and it was creeping up fast.
I went down to London for the interview which was about 30mins long with about 5hrs waiting time but finally got approved and booked a ONE WAY TICKET. I worked my 2 week notice and said my goodbyes to everyone and was on my way. Not once in all this process was there ever a doubt in my mind that we would never be together. The day I flew over was on royal wedding day and I will always remember that , one funny thing from that day was the person checking me in was a guy with a heavy Russian accent LOL.
I got to the place I now call home and what a relief it finally was , in the coming days I got fitted for my wedding ring and suit. My mum and my younger sister were coming over for the wedding , my dad said he didn't have the fund's but 3 days before the wedding called me to say he was at Detroit airport. I said a few choice words as he explained that he had always planned on coming but wanted it to be a surprise.
I notice I've be charping on for some time now so I'll cut this short. The wedding was small but beautiful and since we've been married I've travelled more than I have in my entire life. My dad plan's on visiting in the New Year and we intend to travel to Britain in 2016 for my sister's wedding.
I would just like to finish with the fact that more and more people seem to be finding out what I already know that black women a simply fantastic. The soul you ladies have just draws people to you and your big hearts take care of the rest.
Thank you for allowing me to tell my long story and sorry for my LONG story.
Neil