Good God Almighty. Mod cloth, my favorite affordable vintage shop is having a HUGE clearance sale, and I'm about to do some SERIOUS damage! Well…maybe not too much damage, since a ton of stuff is 70% OFF!!! Just think–$100 will get you more than twice as much. It's the last-chance sale, and when it's gone, it's ghost.
Here's me sporting the Start Spreading the Mews Dress. And it has pockets!!!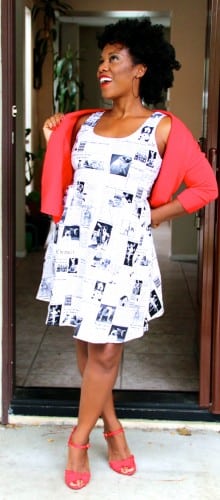 Start Spreading the Mews Dress – 
Extra! Extra! The top headline in style today? This 'mews'-worthy dress of black and white, printed with a plethora of fine-looking felines! A ModCloth exclusive, crafted from 100% cotton in a classic A-line silhouette.
Imagine showing up for a date, brunch or picnic in this…


Pull Up a Cherry Dress in White – 
Strutting so stylishly past the cafe, you overhear onlookers rave about that 'rockabilly diva's cheerful cherry dress!' As you turn your gaze to thank these friendly strangers, you recognize the duo – what a coincidence! Your style-supporters and friends


Needlework it Out Dress in Green – 
Working your craft stand in snazzy style, you sell your handmade creations in this green dress! Intricately embroidered white flowers and swirls adorn the bodice and skirt of this vibrant button-up frock.

And this is so classy, yet sexy…


Botanical Breakfast Dress in Sky – 
Whether you decide on blueberry oatmeal or waffles at the botanical gardens cafe, you already made a stylish choice by donning this sky-blue dress. Boasting a flirty wrap top and softly gathered details, this breezy frock is as beautiful as the blooms.
**This post contains affiliate links and I will be compensated if you make a purchase after clicking through my links. The cost for you is the same, but the commission goes toward supporting our site, so we can continue providing you great content! ?