I was delighted to interview Samantha and on her relationship with Freddie. Their relationship will be the first "blatino" couple we feature. I hope you enjoy this series.
What are your names?
My name is Samantha and his name is Freddie.
How did you meet?
We met online, on OKCupid. They have a very good compatibility algorithm. I made sure to really research my options, to get the best match for me. Freddie was my highest compatibility match. He reached out to me, mentioned our local NBA team the Golden State Warriors, and asked to have dinner. I'm a huge fan so that let me know he'd read my profile, which impressed me. As they say, the rest is history.
What are your cultural/ethnic backgrounds?
I am African American, and Freddie is from El Salvador. His parents emigrated here in the 80s. He was born here, so he is a first-generation American.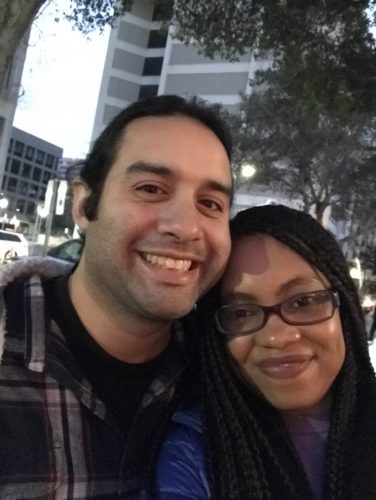 Where are you now in your relationship?
We have been dating for over a year now, since April 2018. We are talking about getting married and having children together.
When did you know it was going somewhere?
He told me that he knew we would be serious about five minutes into our first date. It took me longer for me to realize that, but I could sense something there from the beginning.Definitely something that I could not ignore. I wanted to observe him over time to be sure.
I was studying for the bar in my state, which kept me very busy. We spoke on the phone for hours at a time in addition to going out on dates. We talked about our families, life goals and world views etc. Shortly after I took the bar, he asked me to be his girlfriend. I'm pretty guarded but I wanted to let my guard down because I knew we had something. A few days later I told him I wanted to be with him too. Around this time one of my sister met Freddie and liked him, which helped a lot since she does not like anyone.
What is your ideal date?
I love travelling and exploring different cultures and history.We are also total foodies. So, my ideal date would be waking up in a foreign city like Barcelona or Bangkok, Thailand, and spending the day exploring it together.
What is the best thing that you like about each other?
Freddie and I complement each other very well. It keeps things interesting. He is a natural joker. I am a serious person, though he says he says I make him laugh with my wit. He makes me laugh, stimulates me intellectually and helps me let my guard down. We have very deep conversations, which only strengthens our connection.
I am an introvert; he is more of a people person, so he opens me up which I need. I have tight boundaries, he does not always so I help him stay grounded. We're always checking in with each other. He also loves how open I am to try something new. I like to think we bring out the best in each other.


What is the best part about being together?
The best part about being together is having a partner to share and experience things with. Whether it's having an adventure, cooking together, or talking about our day. Someone I trust. That is invaluable.
Thank you so much for reading this interview! We'll continue this feature in another segment. If any of you are interested in participating in this series, please leave a comment below or connect with Christelyn Karazin.