Shrimp n Grits My Way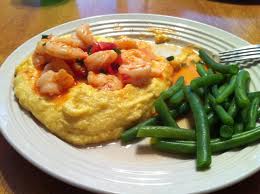 Holy cheesy grits Batman, is this stuff good – the shrimp are tender and spicy, the grits are perfectly creamy and fluffy, and the sauce? Oh, my goodness the sauce . . . Hold on while I drool for a moment. . . It's salty and hammy and melts around the shrimp, bringing the whole dish together.
Shrimp n Grits – Serves 2 to 3 people most of the time.
1 3/4 lb. Louisiana Wild Caught Shrimp peeled and deveined
1 tablespoon Cajun seasoning
1 1/2 teaspoons paprika
1 1/2 teaspoons Italian seasoning
freshly ground black pepper  and kosher salt to taste
1 cup water
1 cup chicken stock
1 tablespoon butter
1/2 cup old fashioned yellow grits
1 1/2 teaspoons tomato paste
1/2 cup heavy cream
2 ounces sharp cheddar cheese, shredded (optional)
1 tablespoon butter
1 large clove garlic, finely minced
4 teaspoons flour
1/2 cup chicken stock
1/4 cup heavy cream
1/2 teaspoon Worcestershire sauce
1/4 teaspoon hot sauce
1 slice cured country ham, cooked and torn into pieces
Peel and de-vein the shrimp if necessary. Combine in a small bowl the Cajun seasoning, the paprika, the Italian seasoning, and the salt and pepper. Sprinkle the mixture over the shrimp, tossing until they are well coated. Set aside.
Next, pour the water, the chicken stock, and the butter into a heavy saucepan. Add ½ teaspoon salt (or more to taste).  Bring the mixture to a full boil. Slowly add in the grits, and whisk constantly, cooking over medium-low heat for 5 minutes. Add the tomato paste, the cream, and the (optional) cheddar cheese. Continue to cook and whisk for 2-3 more minutes, until grits become very creamy and thick.
In a large skillet, melt the remaining 1 tablespoon of butter over medium heat. Add the garlic and cook, stirring, for about 30 seconds. Pour in the spiced shrimp and cook JUST until they are done and tender, about 2 minutes (depending on the size of your shrimp). Do not overcook or your shrimp will get rubbery. Remove the shrimp from the pan to a clean bowl and set aside.
Return the pan to the stove. Add the flour to the drippings, stirring to make the base of a roux. Cook for 10 minutes until medium tan in color. Slowly whisk in the chicken stock and the cream. Cook for 2 minutes, then add the Worcestershire sauce and hot sauce, stirring to incorporate. Finally, add the country ham.
Serve the shrimp on a generous bed of grits, topped with the roux sauce. Enjoy!!