Today is wash day for me. I have my staples, the things that are tried and true blue. Several Camille Rose Naturals products have joined the rotation because the results are undeniable. Big, fluffy, soft curls…
Just about every item I've tried I like–especially the products in jars, because those tend to be heavier and more effective on my coily 4a hair. The reporter in me needed to know who the mastermind is behind these natural, non-toxic products that made my hair looks so amazing.
Enter Janell Stephens, mom of five and wife to an oncologist in Atlanta, Georgia. Having a husband who specializes in treating cancer got her really concerned with ingredients that could be potentially harmful to her and her family.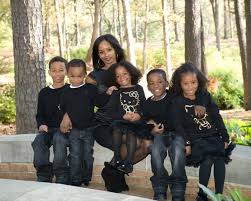 "I'm an ingredients person. I just didn't want the chemicals," she says. She started mixing up concoctions in her kitchen that she used on herself and her kids, and word quickly got around about how effective it was. Soon, she was out at shows in the black hair capital of the world, where she met a buyer from Target who gave her an offer she couldn't refuse.

Five years since its inception in 2010, it's pretty clear how successful her products have been in the natural hair space. What's more, her business hasn't infringed on family or home. "Hubby is still amazed that you can run a hair company and still care for a household!" Yeah; it's called multitasking, and women are pretty kickass at that.
So why the name, Camille Rose? She took it as a sign that her grandmother was with her. One the day of her funeral, amongst a rose bush that wasn't supposed to be blooming, was a single rose. The silhouette of the woman's shadowed profile, wearing her grandmother's rose represents for Janell "vintage elegance."
We asked Janell what the secret of her success is, and she has three pieces of advice:
Have a passion.
Speak your desire into existence.
Have a drive to succeed.
And while Janell is pleased that black women are finally embracing their natural hair, she encourages us to go a step forward and make "natural" an entire lifestyle shift — food, health and fitness.
AMENT!