The other night, I was lying in bed listening to "When The Stars Go Blue" by Tim McGraw. It's one of my favorite songs even though I don't usually like country music. After that, another song by an artist I had never heard of came on. His name is Tone Stith. Without being able to quote verbatim, he starts off by saying that his girlfriend is out on a girl's night but he's left 10 voicemail messages and she hasn't called back. The crux of the song is telling this girlfriend that she better straighten up and, I guess, be more at his beck and call. The song is called, "Running Out," as in he's "running out of love" for his independent girlfriend. He reminds his girlfriend that he's "not perfect" but he tries (that's manspeak for "I'm a cheater").
It made me think about something.
I've often said that the music many of us, from Gen X through the current Gen Z, grew up listening to was grooming us. In the past, I've made that observation in relation to pedophilia and sexual abuse against Black girls in the Black community.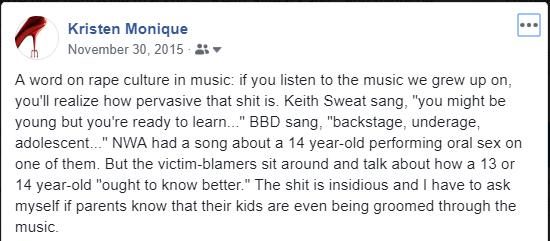 But, as an adult, I'm not certain that we've managed to break free of the mental and emotional programming job that Black music did on us.
From MoKenStef singing in the 90s, "He's mine. You may have had him once, but I got him all the time," to SZA singing about her man being your man and some other woman's man too but she "don't care as long as you're here by 10:30," it's clear there's a problem. Similarly, with every major hip hop album for the last three decades declaring that Black women are "bitches," "hoes," look better if they're racially ambiguous, and basically only good for blow jobs, it's no wonder that the standard of care for Black women by their male counterparts has declined so much.
Earlier this week, I spoke briefly with someone about the root of Black women accepting less than they deserve from their suitors. I noted the familial component (watching the women in our lives put up with more than they should have from men). However, I actually think it's multi-faceted, and communal messaging that is buttressed by the media we consume has added to the problem.
Black women my age got, "Bump n' Grind," "Pony," "Where I Wanna' Be" (a song about a man wasting a woman's time only to tell her he needs to go have sex with other women to decide if he REALLY wants to be with her and at the end being upset that she moved on), and then Black male entertainers telling us that we needed silicone asses to compete with the white girls' silicone asses…OR ELSE!!!
White women grow up knowing that society will bend over backward to make sure they are okay and if not, their men will move heaven and earth to defend and protect them. On top of that, White women my age grew up hearing songs like, "Truly, Madly, Deeply," by Savage Garden and "Iris", by Goo Goo Dolls. They grew up hearing that their male counterparts not only liked them but loved them and would "give up forever to touch" them (and not in a solely sexual way). They grew up dancing to Jesse McCartney singing that it didn't matter that the girls in the video were considered what's hot; the regular girl he pledged his heart to was all he needed ("She's No You").
Basically, their media backs up what they learned from their upbringing and community.
Unfortunately, ours does too.