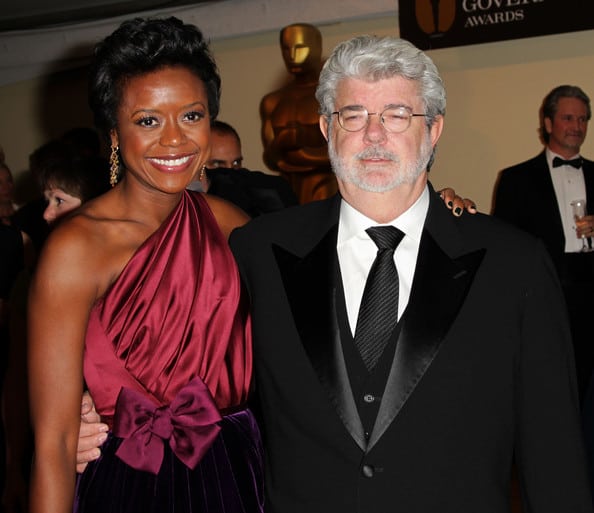 Wow…who knew babies could come that quickly after nuptials…Mrs. Lucas showed no signs of a baby bump…
That's because Mellody and George employed a surrogate!
This from the Huffington Post:
The Force is strong with this one!

The Huffington Post can announce exclusively that on Friday, August 9, "Star Wars" filmmaker George Lucas and his wife, Ariel Investments president Mellody Hobson, welcomed a daughter into the world.

Everest Hobson Lucas is the first biological child for both parents, but she's far from an only child. The newborn, who was delivered via surrogate, is a little sister to Lucas' adopted children, Amanda, 32; Katie, 25; and Jett, 20.

Lucas and Hobson were married on June 22 at Skywalker Ranch, in Marin County, California. Journalist Bill Moyers officiated the ceremony, and director Steven Spielberg toasted the groom.

In addition to serving as president of Ariel Investments, Hobson, 44, is chairman of Dreamworks Animation and a financial contributor with CBS.

Lucas, 69, sold his production company, Lucasfilm Ltd., to the Walt Disney Company for $4.05 billion in October 2012. "Star Trek" director J.J. Abrams has since signed on to direct the first in a series of planned "Star Wars" sequels, set to begin filming early next year.