Last week I did a post about Sea Buckthorn oil taken internally to get your daily dose of Omegas. THEN a few of you chimed in that you're using the stuff topically for your skin, so I did a bit of research on the web about Sea Buckthorn Oil as it relates to hair health, and found this:
Sea buckthorn oil is a natural way of encouraging hair growth. Extremely rich in nutrients and proteins, the oil nourishes the scalp and is believed to stimulate hair growth, as well as heal dry and damaged hair.

Read more: Using Sea Buckthorn Oil for Hair Growth | eHow.com
And from the Sea Buckthorn site:
Rich supply of Omega 7, Vitamins C, E, A, and the presence of the legendary SOD (superoxide dismutase), among other valuable nutrients, is the outstanding feature of this product. Omega 7 is hailed as a special nutrient that may protect, replenish, moisten and restore the skin and mucus membranes that line the digestive and urogenital tracts. The synergic effect of the above ingredients with 100s of others makes it a very effective beauty and delay-aging product that is good for skin, peptic, duodenal, urinary, hair and cardiovascular health with strong pro-natural healing properties including infection and inflammation response.
So I tried it today on freshly washed hair and here's how it turned out…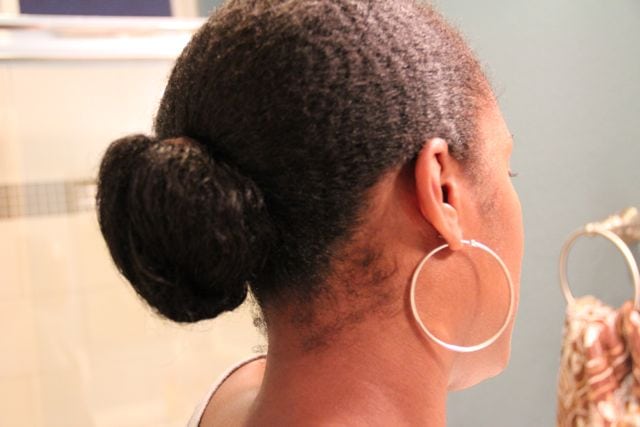 Note the shine…! Now I'll let you know how I used it.
Application
This is actually the second time I've used this product on my hair. The first time was last Saturday when I deep conditioned. For deep conditioning, I added the oil to my conditioner and applied the mixer in four sections, then sat under a heat cap for 30 minutes. I do a conditioner wash with Wen or AsIAm Naturally mid-week, so I just applied a little to oil to my cowash mixture and let it sit a bit while I washed.
Once I got out of the shower, I combine a mixture of a creamy leave-in conditioner, a bit of coconut oil, a few drops of the sea buckthorn and a just a *bit* of castor oil and gently brush into a bun and…done.
How it felt
After my deep conditioner, I took a stray hair and tested the elasticity, and it felt stronger, more elastic, and reflected light. It did feel as though the addition of the oil also helped to elongate the curls. The moisture also stayed sealed in my hair a bit longer than it usually does, which cuts down on the diminishing my stash. And I'll beat you hairlistas are wondering if this oil actually penetrates the shaft. Yep; it does.
Only downside (if there is one) is that the oil is orange, so take special care and not let it drip onto your favorite white T-shirt.
I'm just hoping that we can keep this stuff between us, so as to keep the price low. You can pick it up at your local health food store where they keep all the fish oil and stuff.