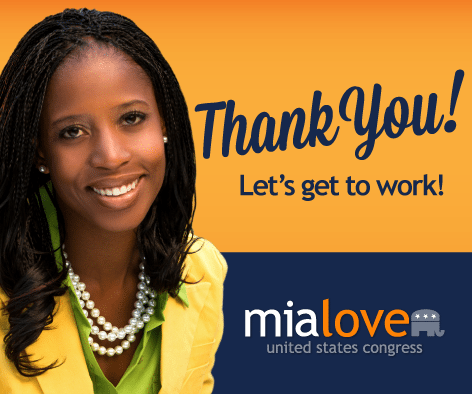 She's black,  she's republican, she's Mormon and she can now add congresswoman to the list. Mia Love has  made history by becoming the first black woman in Utah's history  to be elected to congress. The former mayor of Saratoga Springs has been the one to watch since she first ran in 2012  for the seat in Utah's 4th congressional district. She lost the election, but undeterred she turned that setback into a come back and claimed the seat.
As the daughter of Haitian immigrants, Mia sees her victory as the opportunity to silence the naysayers some of whom have already labeled her "the Obama of the republican party". "I love the story of David and Goliath, because in that story David turn toward Goliath..toward a seemingly impossible challenge," She states. She does not ignore the fact that her victory is going to have its challenges but she is determined to make a difference and is bold in her intentions.  In her victory speech last night she had this to say:
"Let this be a lesson to the nation that we're not interested in dividing Americans based on gender, race, social status. We are more interested in the integrity and honesty of a candidate,  someone who is going to return power back to the people  and away from Washington. "
The married mother of three, is used to rebelling  against the norm; she is a pro-life, pro-gun advocate whose maverick ways are going to ruffle a few feathers on Capitol Hill. She is not interested in playing the race card, but bringing integrity back.
"I am kind of a nightmare for the Democratic party, they don't want me here. But I'm coming," She declares.
And God help anyone who stands in her way.
Go get them Mia!