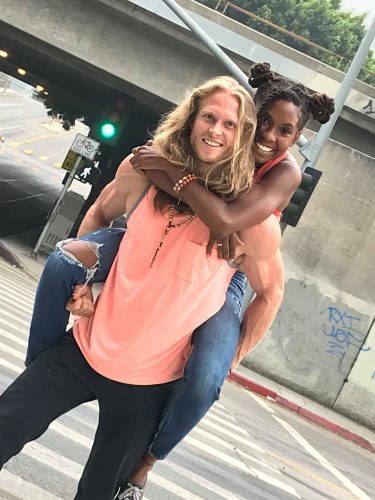 Meet Aaron (28) and Careese (30). They're the hot new interracial YouTubers who are on fire for God..and each other. Aaron and Careese are the two of the five Christians who live in Hollywood. I'm kidding. Maybe there's 10.
You might remember Aaron because he was featured in our Pros and Cons Series: Dating White Men. He mentioned that he was convinced that God had a black wife for him. Looks like he's getting close.
They met at bible study two years ago, but only recently got serious. Aaron didn't feel it was the right time back then and Careese was heartbroken. He almost lost his chance with her. But the heavens (and a little help from her sister and Careese's 12-year-old-son) intervened and they made their way back to each other, stronger than ever. Things look to be getting serious, and this gorgeous couple wants to share some of their journey with us.
I got the chance to interview them a few days ago–you should check it out!
Subscribe to their channel here.
Follow Christelyn on Instagram and Twitter, and subscribe to our YouTube channel. And if you want to be a little more about this online dating thing, InterracialDatingCentral is the official dating site for this blog.