By BB&W Blogger, "Zac Onbothsides." Hit him up on Facebook here.
Please sweet black baby Jesus let this be true.   It is being reported that the Reverend Al Sharpton, was instrumental in taking down the infamous Genovese crime family by working with the F.B.I. as an informant.  Sure. Why not.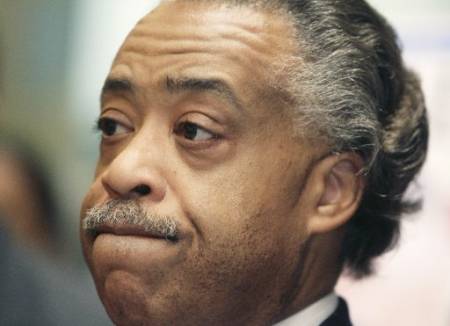 I'm picturing that famous scene in the The Godfather.  Don Corleone taking meetings during his daughters wedding reception, being told, someone named 'Al' would like to say hello.
'Al? Who is this, Al? Do I know him'? The Don bellowed.
'No Don Corleone, no.  But he wears a velour tracksuit with no t-shirt underneath, and an exposed gold medallion.  Something only Romanian men are able to pull off.  So there's that.  Also, are you familiar with the 'conk' hairstyle? So, yes Don Vito, he is someone you should meet.'
"Send him in!'
Hopefully this story will clear the way for Hollywood to confront their long held bias against casting obese black men with perms as undercover operatives.   Reverend Sharpton is a natural to play Jason Bourne, both men struggling to remember the truth.
Oddly enough this isn't a joke.  It does raise some curious, if not troubling questions.
According to the Reverend himself,  he was confronted by the F.B.I. after being heard on a wiretap with a known big time cocaine dealer.  The F.B.I. according to Sharpton, approached him with threats of prosecution if he didn't help them in their operation to take down a mob family that apparently had a relationship with Al. However part of AL's reasoning for cooperating with the F.B.I. was that he was being threatened by some in the mob for attempting to create jobs for blacks in the music business.  Wow. Let that wash over you for a minute.
Question 1- If Al is only talking to a drug dealer friend, what did the F.B.I. have on him to make him assist them in recording the mob?
Question 2- at what point did it start, and for how long did his relationship with the F.B.I. last?
Question 3- If, as it's being reported, that the rumors of Rev. Sharpton working with the F.B.I. existed in the early 1980s', is it a stretch to imagine he might want to do something major to shift attention while simultaneously bolstering his image? Exhibit A. Tawana Brawley.
Question 4- Do we believe that the Reverend Al never pointed the F.B.I. in the direction of anyone in his own community?
While I don't hold out much hope that those in the media will press Mr. Sharpton to answer any of those questions, and to be clear, he's accused of no crime, there's still many people would like some clarification.
Just yesterday the Reverend was quoted as saying he should be given a medal.
Hopefully he wears it with his tracksuit.