Yes…I know. I've been on a bit of a cucumber craze as of late. Just deal with it; I'll move on to something else soon enough. We all know cucumbers are good for you, but did you know pickles are too? They help curb the appetite, and the fermenting process provides probiotics to the intestines.
I stumbled on pickles as an appetite suppressant quite by accident. I was in the process of canning pickles with my Ball freshTECH FreshTECH Automatic Home Canning System. I was working on my second batch of the season and decided to taste a batch that I did prior to make sure I'd gotten the seasonings to my taste. I was hungry at the time, but didn't want to stop right when it was time to pack the pickles in the jar and add the spices and hot liquid. So I popped a pickle and continued canning. Then I realized that I didn't feel like I needed to eat after all the work was done, and I didn't feel ready to eat for a couple hours thereafter. Since pickles are very, VERY low in calories, I couldn't figure why they kept me full. So I decided to do a little research. Here's what I learned:
Pickles, sauerkraut, kimchi, and other fermented foods have short-chain fatty acids (SCFAs), and recent research in the Annals of The New York Academy of Sciences found that they help strengthen the bond between the gut and the brain. SCFAs stimulate production of hormones that cross the blood-brain barrier and improve appetite signaling. Fermented foods also boast probiotics, the healthy bacteria that help digestion. Some experts believe probiotics may reduce appetite and aid weight loss, though research is inconclusive. [SOURCE]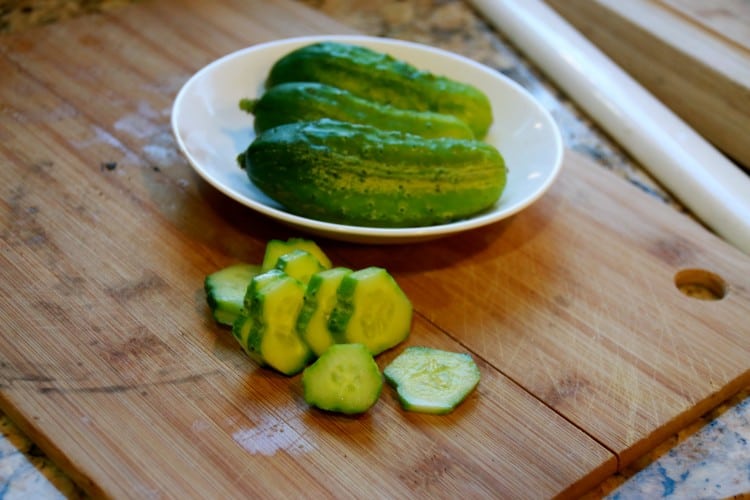 Pickles- not the usual kind found in your local grocery store, but natural organic pickles found in health food stores or in the health food section of your favorite grocer. Natural pickles, which are essentially small cucumbers, only have a few calories each. An entire jar will have less than 100 calories! You can snack on these powerful appetite suppressants all day long without any guilt. [SOURCE]
Also, each pickle has 2 grams of fiber and Vitamin K.
It's to your advantage to grow your own organic cucumbers and cure them into pickles using ingredients you have 100% control over. Non-organic pickles have artificial flavorings and colors, preservatives, and sometimes, white sugar. Here's my second batch.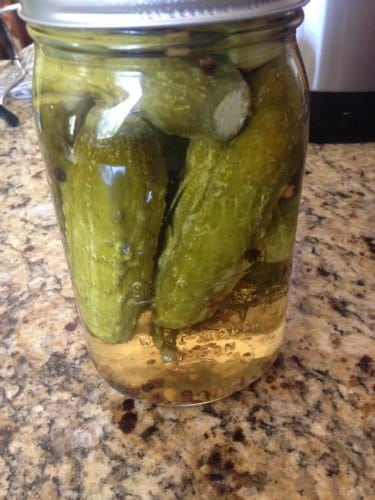 For all things canning, visit the Ball website for recipes and a wealth of other helpful information.