I downloaded a book recently, The Power of the Pussy, by recommendation from someone on this blog. Yes; the name alone incites waves of pearl clutching, but as I read through, I have to admit the author makes a whole hell of a lot of good sense. So much so that I'm going to put it on your recommended relationship reading, along with Get the Guy, and of course, Swirling.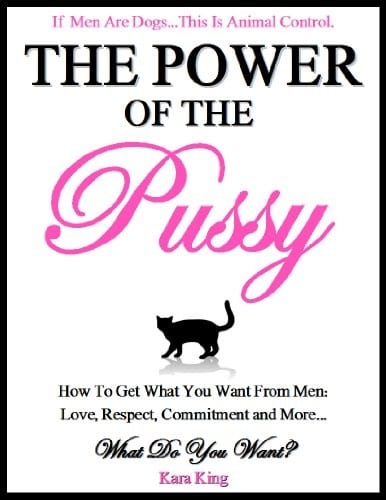 Author Kara King takes a no-bullshit approach to getting the man you want, and I've got to say it's utterly refreshing. She takes that games that men play on women and shows you how to use them to your advantage, and tells you not to feel one iota of guilt about doing it.
She also combines traditional mating tips, like waiting as long as possible before having sex with a minimum of 60 days. King says that in this day and age of quickie hook-ups, making a guy wait for the cookies already sets you apart from the rest. It also works to filter out the time-wasting men who just want you for sex. If a guy is willing to date you for a minimum of two months with only kissing and a little boob fondling (she says to do this–it drives men crazy!) then he's passed the first round of tryouts.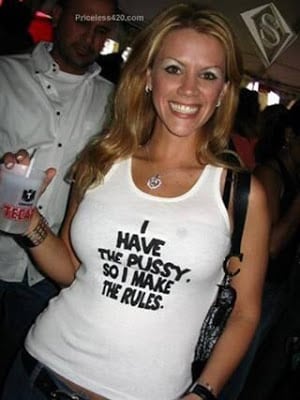 Saw this during my Google search.
This tank pretty much sums up the entire premise of the book.
While you're waiting, you might get horny. The author advises you do one of two things–get a vibrator or get a fuck buddy. These "FB's" are your "hoes." An FB should be treated as such and only used when needed (of course with all the requisite safe sex measures in place). You keep your libido in check for the guy you really want. Bottom line, if he's boyfriend or husband material, you'd better wait it out.
But whatever you do, don't tell ANYONE about your 60-day waiting period–not even your friends. If the guy knows about the time frame, you run the risk that he'll just wait  it out and hit it and quit it. She also recommends to never, EVER reveal your sexual history, no matter what the guy tells you. She says they simply can't handle the visual of your legs spread eagle with anyone that's not them. The simple way to circumvent this inquisition is to say, "I'm a lady. I don't talk about such things." Boom.
What I find particularly delightful is how King instructs you how to get exactly what you ask once you've decided to "go all the way." She says the crucial time to ask what you want is while his balls are swelling up and ready to take care of business. This is the time you can tell him that you don't get intimate with just any guy–you're looking for a committed relationship. This is also the time to ask if you guys can fly first class to the Bahamas. You do this asking, not in a bitchy or whiny way, but sweetly and in your best sex-kitten imitation. While the blood has rushed from the big head to the little one, your man will have a hard time denying you anything.
And that was just in the first two chapters. Yeah; you better buy this one.