Boy, do I have a treat for you. Last weekend at The Makeup Show Los Angeles, I stumbled upon a dynamic and charismatic makeup artist giving a tutorial on contouring. This artist was the renowned Ashunta Sherrif, and she's done the faces of some of our favorite African American celebrities, including Meagan Good, Taraji P. Henson, Tracee Ellis Ross, Elle Varner, Alicia Keys, Jordin Sparks, Queen Latifah, Jennifer Hudson, Sanaa Lathan, Tika Sumpter, La LA Anthony, Sharon Stone, Marisa Tomei, Rihanna, Ciara, Hillary Duff, Ashley Simpson, Keri Hilson, Jazmine Sullivan, India Arie and many many more. These days, she's in charge of the entire editorial and marketing/promo on the runaway hit, Empire. Yes. She does all of Taraji P. Henson's looks. So when she showcased her line of foundation/concealer/contour a la Perfect Face Dual Foundation, I was intrigued.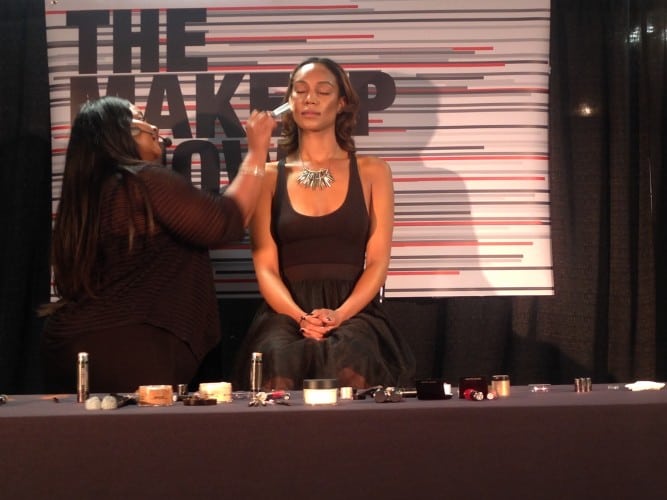 First thing I'd noticed was that her demo class at the show was packed to the hilt–make up artists from all around sat in rapt attention as she shared her quick-yet-precise routine to get stars ready for the screen and models ready for glossies.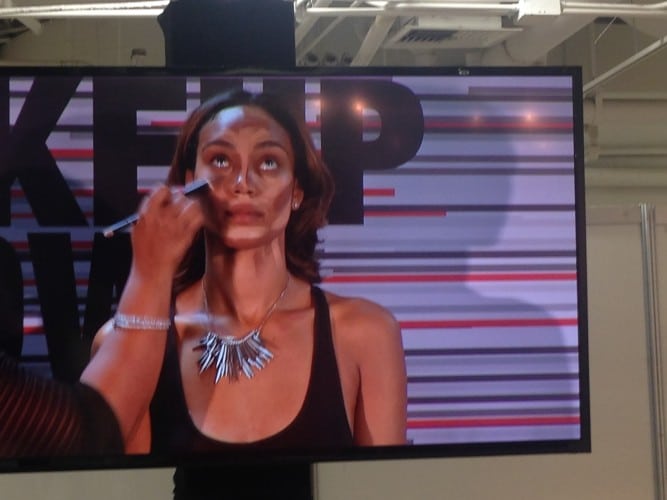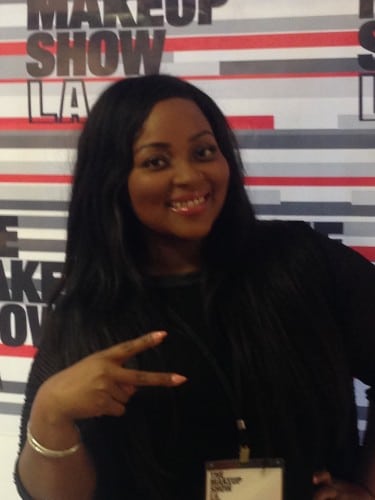 When I told Ashunta about the crowd over here at Beyond Black & White, she wanted to be sure all of us knew how amazing Perfect Face was, so she was gracious enough to give me the product to review myself. And…wow. Okay; I'm going to work backwards and show you the finished product just to make you drool…
Yes, girl. Foundation looks like butta-baby. Goes on that way too. Perfect Face is a dual shade foundation that acts as such, but does the job of a concealer and contour product so you get it all in one easy stick without all the extra. Coming from a chick like me who just spend a fortune on contouring products to give me this effect, my search is absolutely over. She personally selected DARK for me. The line come in six shades. One side is a few shade lighter, the other is a shade or two darker.
The after application your skin looks dewy and fresh. The downside? You definitely need a mattifying powder if you're super oily, because the effect might be a bit much. I ended up putting extra powder to set the foundation in my T-zone.


With a little practice and a good foundation brush (included in your purchase) you can easily master this look and have it done and set in five minutes. Heck; I did it on the first try, and did a video tutorial of the process…

I also got a chance to speak with Ashunta about her favorite go-to products, and you can listen to it here:
List of Ashunta's favorite go-to products…
Dermablend Translucent Setting Powder
Prefers INGLOT blushes or Pur Mineral blushes
Lime Crime lips for matte, retro look or for glossy, Dior Addict Lip Glow
You can also find tons of tutorials and more product information at ashuntasheriffbeauty.com. See the product in action on Instagram on both @ashuntasheriff and @ashuntasheriffbeauty.
$40 for the Perfect Blend stick; $15 for the Perfect Blend brush  or get both for $50 at ashuntasheriffbeauty.com.