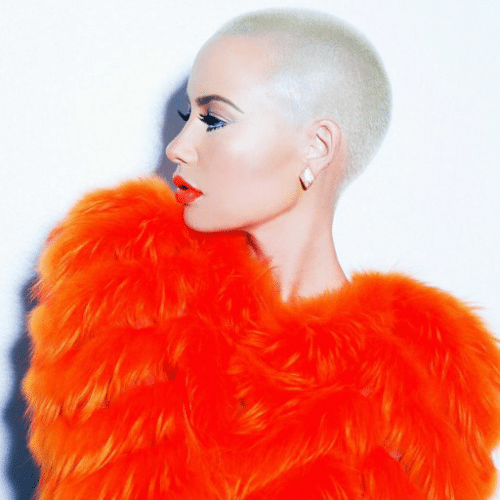 Somewhere, out there, many many men are celebrating. Somewhere, deep within the corridors of single men's mind there lives a plan to snag one of the most beautiful women in pop culture today. Whiz Khalifa's wife, Amber Rose, has filed for divorce after learning of her husband's infidelities. The mother of Sebastian will receive approximately one million dollars in additional to all the benefits provided by law based on the details of her prenuptial agreement with the rapper and producer.
Model and personality Amber Rose filed for divorce immediately following evidence that her husband of 1 year had been unfaithful.
According to friend Rosenburg, Amber is a very dedicated wife that expected traditional behavior from her internationally known spouse. She first became suspicious of his activities when the forbade her to join him on his most recent tour, suggesting that she stay home and 'Momma' their child instead of accompany him.
Let this be a lesson to those of you looking to partner up and procreate with the men who say they love you. If he's really real, then he'll provide a ring and paperwork, and in the event things don't pan out the way YOU expected, make sure the union is beneficial enough to provide for the needs of yourself and your child after the fact.
If it can happen to Amber Rose, it can happen to anyone of us. I'm not saying she's the epitome of YOU, but let's keep it 100, if you think there is something you can do or can look like or can achieve that will MAKE your man be the man you deserve then you need to sell that shit on the open market. You'll make a killing. Otherwise realize that bad things happen to good people, beautiful people, and nice people.
Such is life…..
But on the flip side, I am so sure there are several prominent men who are lining up with their A game to get the attention and affection of this beautiful woman. I hear she's a very nice and down to Earth young woman, and once married women have a better chance of RE-MARRYING than those who were never married at all.
(I never did see what she saw in Whiz, Kayne is Kayne but you can't argue that he isn't a brilliant artist and a dam nice looking dude pre 2010. I don't know what's up with that dude lately tho!)
I wish her and her son well……
A SIDE: Peep her Twitter avi with that beautiful ORANGE fuzzy thing and her perfect profile. This look is saying to the world that, 'SHE'S NOT FEELING NO TYPE OF WAY!!!'