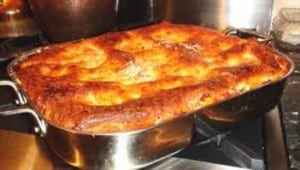 1 pound sweet or hot Italian sausage, or ground pork your choice
3/4 pound lean ground beef
1 medium minced onion
4 cloves garlic, crushed
1 (28 ounce) can stewed tomatoes mashed
2 (6 ounce) cans tomato paste
2 (6.5 ounce) cans canned tomato puree
1 cup V8 Juice
1 1/2 teaspoons dried basil leaves crushed
1 teaspoon oregano crushed
2 teaspoon Italian seasoning crushed
1 tablespoon sea salt
1/4 teaspoon freshly ground black pepper
4 tablespoons chopped fresh parsley
12 lasagna noodles (see tip below)**
16 ounces ricotta cheese (optional, I don't care for it)
1/2 teaspoon salt
3/4 pound mozzarella cheese, sliced
3/4 pound sliced provolone
3/4 cup grated Parmesan cheese (optional)
Directions
1. In a Dutch oven, cook sausage, ground beef, onion, and garlic over medium heat until well browned. Stir in crushed tomatoes, tomato paste, tomato sauce, and water. Season with sugar basil fennel seeds Italian seasoning, 1 tablespoon salt, pepper, and 2 tablespoons parsley. Simmer covered, for about 1 hour, stirring occasionally. (If you cook it too long the acids in tomatoes get converted to sugars, and makes the sauce sweeter.)
2. Bring a large pot of lightly salted water to a boil. Cook lasagna noodles in boiling water for 8 to 10 minutes. Drain noodles, and rinse with cold water. In a mixing bowl, combine ricotta cheese with egg, remaining parsley, and 1/2 teaspoon salt.
3. Preheat oven to 375 degrees F (190 degrees C).
4. To assemble, spread 1 1/2 cups of meat sauce in the bottom of a 9×13 inch baking dish. Arrange 6 noodles lengthwise over meat sauce. (If you use a smaller pan, make 4 layers, or as many as you can. use less sauce and cheese between layers.) Spread with one half of the ricotta cheese mixture. (optional) Top with a third of mozzarella cheese slices. Spoon 1 1/2 cups (seems like a lot, but it isn't) meat sauce over mozzarella and sprinkle with 1/4 cup Parmesan cheese. Repeat layers, and top with remaining mozzarella and Parmesan cheese. Cover with foil: to prevent sticking, either spray foil with cooking spray, or make sure the foil does not touch the cheese. Spoon any leftover sauce over portions if desired.
5. Bake in preheated oven for 25 minutes. Remove foil, and bake an additional 25 minutes. Cool for 15 minutes before serving
** In some Italian Restaurants' the chef doesn't cook the noodles, they soak them in hot water for 30-45 minutes or till soft. This prevents the noodles from becoming soggy and mushy.
For more of Chef Bob's delicious recipes, visit the Ultimate Recipe XChange on Facebook here.