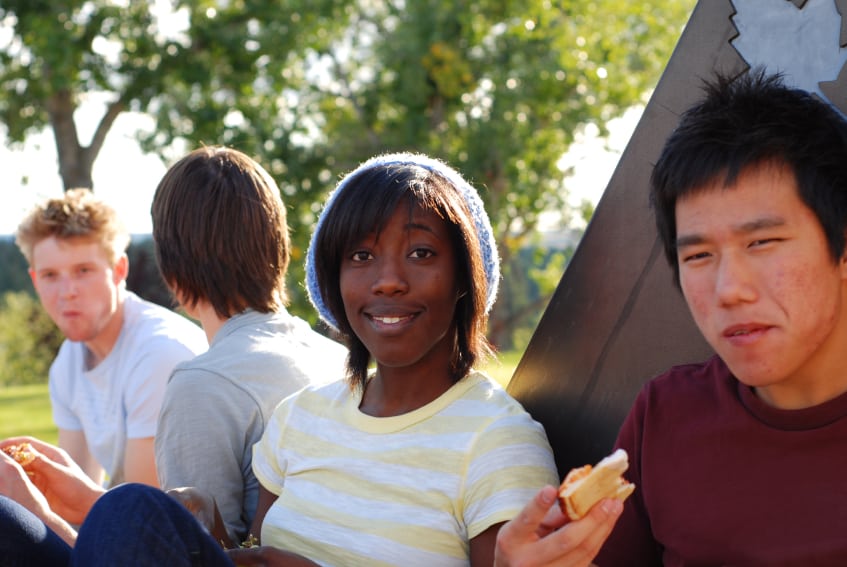 June is graduation season, and all the 18 and 19-year-old collegial hopefuls are soon to flood the halls of academia, full of hope and promise. Some may want to be doctors, lawyers, scientists or social workers, but all of them will have one thing in common: to get lucky. And by "lucky" I don't necessarily mean incoherent, drunk sex at some random frat party, I mean getting a little luck in love. I'm going to focus on young black girls on this one, since they seem to struggle the most in this area. Many graduate having not had a single date. I know because I get the notes from these poor girls.
College is a time not just for educational and vocational enrichment, but social as well. Honing your skills in only one of these areas will leave you awkward and wanting in another. Consider these rules the broad strokes, and if others in the BB&W community want to contribute some gems of knowledge, let 'em fly.
Rule Number One: Do Not Self-Segregate
I get it. You're in a new place, unsure of yourself and you're looking to fit in. The easiest thing in the world to do is to gravitate towards people who look like you on the outside. This is a big mistake, especially for young black women. The ratios of black young men and black you women are so skewed in favor of the males that that you end of vying for and waiting in line for the same few guys, which will leave you feeling desperate and undesirable. Instead of looking for commonalities along racial lines, look to make connections based on interests.
Rule Number Two: Don't Let the Black Student Union Be the Only Club You Join
Again, this is a virtual harem for black men, with the poor black girls pandering for any kind of attention they can scrape up. I truly resent the pathetic position many of these males put black girls in while they date whomever and whatever race of woman they wish while the black chicks are expected to "hold it down" and keep the light on for black love. That's nonsense. While I don't want you to turn your back on activism for our people, I don't want your efforts to be exploited. Understand that it is not on you as a black woman to uphold an entire race and embrace some "beautiful struggle" propaganda.
Rule Number Three: If You Can, Opt for a Non-Black Room Mate
This is especially essential if you have had little to no exposure to non-black people in your lifetime. When you enter the workplace that will require that you navigate effectively with ALL people, you need to feel comfortable in doing it. What better way than to form a bond with someone you will have to get along with morning, noon and night? What is more, you'll learn from each other, and expose each other to new experiences.
Rule Number Four: Take an Etiquette or Toastmasters Class
It is essential, absolutely NECESSARY for you to learn the social graces of the upper echelon of society, especially if you are planning to date interracially. You need to know how to introduce people, how to bow out of on conversation politely so you can continue to mingle and network, and you need to know which fork and spoon to use in a full-course table service. Remember this: Etiquette is the secret language the upper class speak to one another, and your lack of fluency can and will be used against you. That also goes for informal job interviews over lunch and dinner.
Rule Number Five: Make An Effort to Go to a Social Event Every Week
It is so easy to get caught up in school stuff, homework and midterms and finals looming, but consider going out to socialize as part of your education too. Go to club events and mixers, fraternity and sorority fund raisers, formal events where you have to dress up. If you're going out to a bar or a frat party, always, ALWAYS go with a friend, and never, EVER, EVER leave your drink unattended.
Rule Number Six: Arrange to Take a Semester Overseas
Talk to the study abroad counselor to discuss your options for traveling away for a semester. Travel to Italy, France, Germany, (safe places in) South America, (safe places in) Africa, China, or Japan. Studying away gives you a whole new perspective of the global community and your place in it. You'll have an opportunity to learn another language, make friends, network, and…who knows? 😉
Rule Number Seven: Pursue TRUE potential
No one expects you to find your husband in college, but that doesn't mean it's not possible. If you find yourself rubbing elbows with young men who have a clear path of their future and there's some chemistry and a connection, nurture it. He could be a nerdy engineering major today, but someday he might be building entire cities.
And don't forget to go in armed Swirling, and Matthew Hussey's best-selling book, Get the Guy. And if you especially ambitious about taking your romantic future into your own hands, subscribe to Matthew's video series.