Today I wanted to share with you a couple of new launches that is making me Very Excited! My goal for this summer is to splurge a little bit on higher end products just to see what the hype is about and these 5 products have me wanting to give all my money away!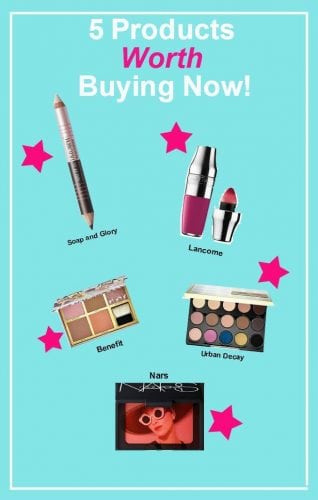 NARS Special-Edition Orgasm Blush
Orgasm Blush gives cheeks a sheer, perfect pinky-peach flush and subtly highlights with accents of golden shimmer.
This is not exactly new but they redesigned it to feature a summer-chic woman on the case and on the blush itself! Ok so the woman isn't embedded in the blush but it is more so a clear film photo that sits on top of the powder! On the mirror it cleverly says#whatmakeyoublush. This shade is universally flattering on all skin tones…bonus! With darker skin tones the gold flecks give a subtle highlight to our skin! The price for this $39
Benefit Cosmetics Cheekathon Blush Kit
If you are all for that blush flush why not try this new blush kit! Built with 5  gorgeous faves from the brand in one compact. If you ever wanted totry Dandelion, Hoola, Rockateur, Dallas, and coralista then here is your chance! The best part about blush kits is that you can blush on one color or several for a unique but gorgeous shade that fits you! The Price for this is $58 which I think is an even better deal for all 5 blushes than individually!
Soap and Glory Arch De Triumph Eyebrow Shaper
I love a good eyebrow pencil! Its easy and simple to apply without having to dip an angle brush in a gel brow powder 100 times to get the perfect look! The best part about this pencil is that it comes with a highlighter on the other side! Highlights on the brow bone lifts up the brow to create a sorta botox effect without the botox! This bad baby cost $9 at Ulta!
I don't think we will ever be over the matte lip phase but I think since the summer is just around the corner why not try out a moisturizing lip gloss! This lip oil/tint helps aid in dry lips often what we need after a matte lip day! This lip oil comes in a combination; 1 to moisturize and hydrate and the other one to tint the lips for a gorgeous sheen! This formulation is non-sticky and the cushion applicator will make your lips rejoice in comfort! This juicy formula comes in a whopping 19 colors! The price for this is $21!
UD Gwen Stefani Eyeshadow Palette
If you are in love with Gwen Stefani as much as I am well then you will love this palette! Even if you don't the shades in this palette is universal for all skin tones with matte shades of brown hues to bright pigmented colors like yellows and pinks! There is 12 completely new shades in this palette as well as 3 Urban Decay faves! If you got the extra cash this palette is $58!
Have you heard of any of these new launches! Are you tempted to buy a new product?
Follow Jasmine (aka Color U Bold on her blog here, on Twitter here, and Instagram here.