In this article, we will welcome our first couple from France. Katie  has graciously agreed to discuss her marriage with Philippe. I hope you enjoy this article as much as I did.
What are your names?
My name is Katie and my husband's name is Philippe.
What are your cultural/ethnic backgrounds?
I am from Togo and my husband is French. To be more specific, I was born and raised in Togo. Both of  my  parents are Togolese. I have lived in France for 25 years now. Philippe is French, born and raised in France.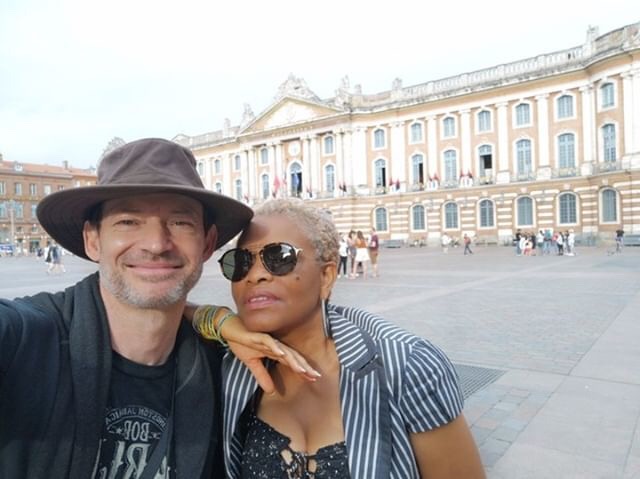 How did you meet?
We met each other through an internet dating site in 2008. I did not even put up a picture. I had just separated from a previous relationship and he had as well. I was just looking for a very simple connection. I was not ready to get involved in a serious relationship. Besides, I did not think I would find any interesting men on the internet. But he definitely piqued my interest. He was looking for his black pearl, as he had written on his profile description.
When he wrote to me for the first time, I was surprised to discover that my profile description was a perfect match for his. So I jokingly replied, "Look no further you found me." I did not take it seriously, I just went to the site for a few minutes before going to bed.
I offered to see him in a bar for a drink. That was my technique, as I did not want to waste time talking to a stranger I liked due to a photo only to find that I do not like him in person. However, at that time, he had just left on a mission abroad for 7 weeks. He works as a helicopter pilot, and does a lot of trips overseas.
A week later, on Saturday night, I went online to read my messages before bed. I found that I had quite a bit of success, even though I did not put a profile picture. Once I went online, I discovered that he wrote me a message every day of the week – really fun and friendly messages. I liked the messages a lot. They made me more curious about him. So every day I went online to read and reply to his messages.
On the site we could put what astrological sign we were. We saw that we were both Scorpios. One day he wrote to me, "I was born on November 5th. What about you?" I thought that was really funny as my birthday is November 5th too. That joke really connected us. There have been many coincidences like this. One day, he asked if he could call me. We had a good discussion, and I liked how he spoke. He laughed easily and I realized that I loved his laugh. I was going through a very difficult family situation at the time and, just having him there, even without him knowing the details, really helped me.
When did you know it was going somewhere?
When he finally returned from his mission, we met the next day. We ate together in the evening and chatted until 3 am. I had to go to work at 8:30 am. Normally, if I do not sleep at least 7 or 8 hours a night, I'm in a bad mood all day. But that day was the opposite. When I woke up that morning, I realized that I wanted him to stay in my life as a friend, even if I did not fall in love with him. But later I realized that I was already falling in love.
Very soon after we left each other, we would get back together as soon as we could. We lived about 50 km from each other. In 4 months we understood that it was serious. And a year after we met, we moved to a new house together.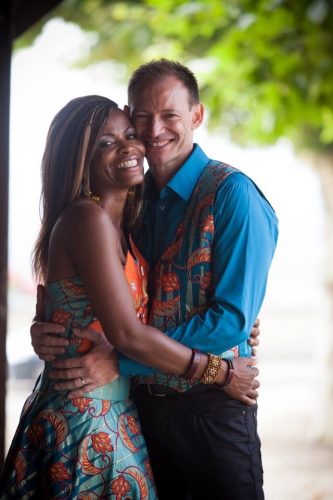 Where are you now in your relationship?
We have been married for seven years, but we have been together for 11 years. We started living together a year after we met, and we got  married 3 years later. Before meeting me and even at first when we met, Philippe said he would never get married. But he married me. Our relationship is very peaceful and stronger than ever, even though we still argue over little everyday things from time to time.
Thank you so much for reading this interview! We'll continue this feature in another segment. If any of you are interested in participating in this series, please leave a comment below or connect with me or Christelyn Karazin.