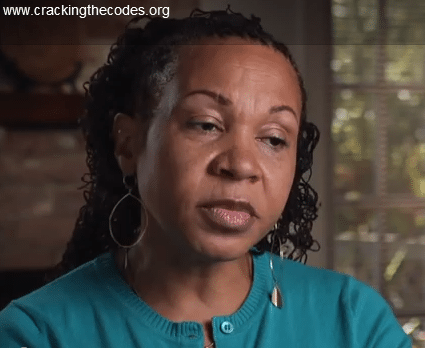 Many of us who are married or will be married interracially to white men will experience instances where white privilege comes into play.   Although white privilege can be beneficial to us at times, the fact that its an actual distinction is quite upsetting to me.  White privilege can benefit us when we are with our husbands, or a member of his family or even a white friend.  Filmmaker Shakti Butler brings us Cracking the Code: The System of Racial Inequality.  She shows of how white privilege benefitted a woman after experiencing obvious discrimination by a store clerk.   Joy DeGruy's A Trip to the Grocery Store experience was shocking but not so shocking at the same time.  Most of us will relate with similar experiences.
Sometimes these things happen to us on a daily basis and become too numerous to mention as we accept it as a fact of life of being black in this country.  But every now and then an incident happens that will forever remain etched in the mind.  My most recent Trip to the Grocery Store moment happened in February 2012, last year when my family relocated to sunny Los Angeles from the frozen tundra of North Pole, Alaska.  Deliriously tired from sailing four days and two more days trekking down Interstate 5  from the Canadian border, we were happy to finally make it to our hotel.  I didn't care that it was actually a motel (not the place we envisioned) and was quite honestly a dump.  Our car was packed with all we had not shipped ahead, so my husband was tasked with maneuvering luggage, boxes and bags to get things we would need for 2 nights while I went to check in.  Since we had reservations we were expected.  I explain that we had just made it in from a very long trip and wanted a nice room.  The owner, who appeared to be Indian scanned my credit card and gave me a room at the back of the motel.  She was pleasant enough but would win no awards for outstanding customer service.
After walking for what seemed like a quarter mile down a poorly lit walkway, I got to the rinky dink room.  I turned on the lights and saw that two of the lamps were out so I called the front desk to let the owner know.  She said I could come and get a couple light bulbs so off I went.   By the time I got back to the front desk,  my husband had also made it there and was looking for me.  Once the owner realized that this blonde, blue-eyed man was my husband, her entire demeanor changed.   She said in a very sweet voice and concerned manner:  "You have come a long way, let me give you a suite and a discounted rate."  I saw what she had done right away.  My husband was oblivious to what had just happened, but it is just part of our sister (or black) experience.  I cracked that code!  Black women and black people in general recognize racially charged shade when we see it.  I graciously accepted the room that was right across from the front office right next to the parking lot .  Oh, I was hot, but I was so tired and just needed a bed.  There was no need to call out this woman on her obvious racial bias as it would not have served any useful purpose.   This was not the time to fight a battle.  And to top that off, the so called suite was just a bigger rinky dink room.  I couldn't wait to get out of that dump!
White Privilege was all over that scenario.  My family got the benefit of having a white man with us who did nothing spectacular other than to come looking for me.  Joy DeGruy's example was a little different but basically the same game.  White privilege is both cases not spoken, it is observed.  Watch as Joy so eloquently shares her harrowing experience.  Please share your Trip to the Grocery Store moment.  Did you crack the code?