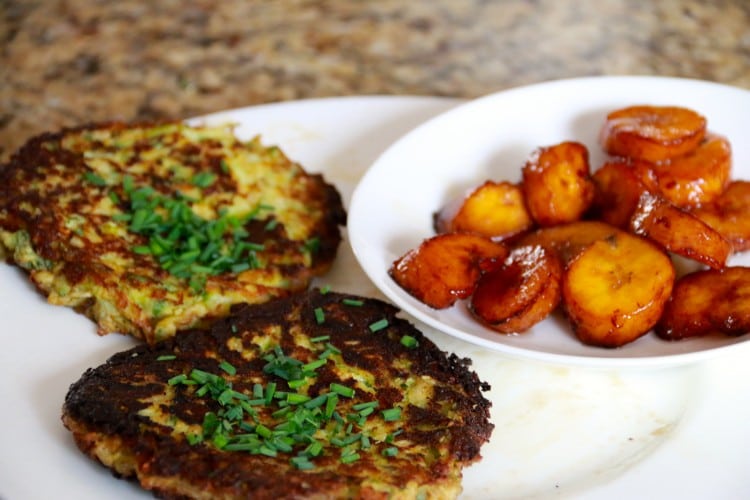 I came back from a 10-day vacation with about 20 pounds of squash to go through, so I needed to be creative. I looked online and found a recipe for zucchini fritters and it came out delicious. You can find it here. The only variation from the recipe I took was topping it with chives from the garden. It was a great addition.
I thought a good compliment to the savory taste of the fritters was fried plantains.
I developed a love for plantains when I was dating Mike and he took me to a Cuban restaurant in Los Angeles called Versailles. To me, there is no better treat.
You can get plantains at high end healthy food markets, but more than likely they'll be green and VERY unripe. It may take nearly two weeks for the plantains to be yellow, ripe and sweet enough. But experience has taught me it's best to wait.
To prepare:
Make sure the plantains are ripe. Unpeel and cut into thick slices. Meanwhile, heat peanut oil in a pan on medium high heat. Once hot, place the plantains in the skillet and turn when they are light brown, about 2-3 minutes. Repeat. Drain the oil. I like to put a light coating of ghee (clarified butter) and maple syrup on at the end. It's so good!