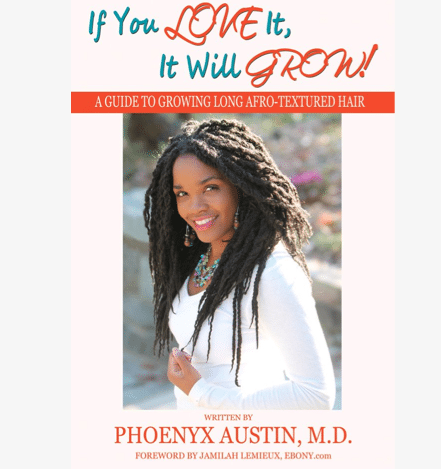 Attention ladies (and fellas) of BBW!!
I just alerted Chris that I will be officially releasing my new book "If You Love It, It Will Grow! A Guide To Growing Long Afro-textured Hair" on February 6!! The book is currently available for pre-order on Amazon and in response to the growing number of customers who have expressed interest in purchasing both my paperback and ebook, I have decided to price the Kindle/Nook versions at only $5.99. I am dropping serious hair and health knowledge in this book, so be sure to grab your copy when it releases! The paperback ($16.95) and ebook is set to release Feb. 6. This ebook price is available to ALL CUSTOMERS for a LIMITED TIME!
You can check out DrPhoenyx.com and Facebook page for continuous updates on the book release!
That's all folks, and I will see you guys on Thursday with a new post on how to Look Good, Feel Good, and Live Good!
This post was written by Dr. Phoenyx Austin. Dr. Phoenyx is a physician, author and media personality. She writes on natural hair, women's topics and well-being. Be sure to pre-order her fabulous new book If You Love It, It Will Grow! A Guide To Growing Long Afro-Textured Hair. If you have any questions/comments you can find Dr. Phoenyx on her blog, Facebook and Twitter.