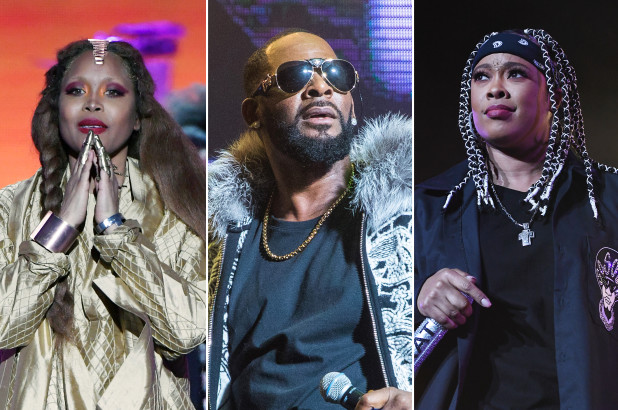 Erykah Badu and Da Brat Won't Be Muting R Kelly
Written by Saran Lawson
Two more artists speak on their thoughts on the docuseries recently aired by Lifetime network, Surviving R Kelly. Erykah Badu was filmed during her show at Chicago's Aragon Ballroom speaking her thoughts on the Chicago Native. TMZ also caught up with Atlanta rapper and radio host, Da Brat, at the Cobb Energy Center for the 2019 Bounce Trumpet Awards. Both artists seemed to deflect the attention away from R Kelly.
Erykah Badu, can be heard in a clip obtained by TMZ speaking on the recent events surrounding accused rapist, R Kelly. You can literally hear the shock across the audience as the singer defends the singer. It's always surprising to see who will come to the defense of such monstrous people. It seems to be the people who claim to champion women that justify attacker. I think I was as shocked as the rest of the world when I saw the video where the Next Lifetime singer came to Kelly's defense at her Chicago concert.  "I don't know how everyone else feels about it, but I'm putting up a prayer right now for R. I hope he see's the light of day. If he's done all those things we've seen on tv that those ladies talk about, I hope he see's the light of day." You can hear a girl in the background sigh over and over, "No Erykah", during the singer's thoughts on the subject. She continued, " What ya'll say? F*&k him? That's not love. That's not unconditional love. But what if one of the people that was assulted by R Kelly grows up to be an offender? We going to crucify them? How do we do this? Just something to think about." Needless to say the
Atlanta rapper, Da Brat, was interviewed by TMZ recently at the 2019 Bounce Trumpet awards on her views regarding the recent R Kelly events. She gave a mixed response to her feelings toward the Surviving R Kelly interview. "I've never seen him do anything bad, but I don't believe all of those people are lying. But at the same time, Where are the parents? I think he needs help for sure. I love him. I hope he doesn't get mad at me. And I think the parents need to take responsibility. Where is your 14-year-old child? Why are you there? You know what I'm saying? Somethings wrong with that."  When the interviewer asked, "Will you still be able to listen to the music?" She responded, " I can't stop listening to the music. Never will I stop listening to the music, ok. I may not buy it no more, but it's already in my playlist, ok."
There are several moving parts to this Surviving R Kelly documentary.  Yet, I see deflection in both of these situations when R Kelly is mentioned directly. It seems that Da Brat and Erykah won't be muting the Chicago singer anytime soon. A few more artist may have to lose their spot on playlists alongside Kelly. I don't know how many people have to be canceled to prove the worth of black women. We will just have to let these artist lose their worth in coins until they see our worth in the world.