I have to admit this is a surprise…
Gwyneth Paltrow graces the cover of People magazine's most beautiful woman.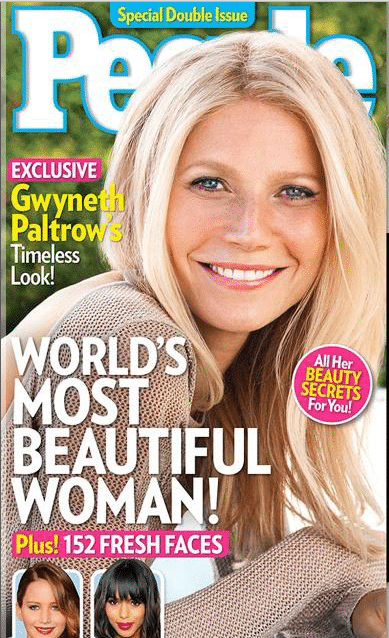 She came a cut about our beloved Kerry Washington, Kelly Rowland and Jessica Biel.
Gwenyth and I are about the same age, so I'm kinda stoked that the self-life of beauty in Hollywood has extended. Two decades about a 40-year-old celebrated as a most beautiful woman over a stable of girls fresh out of puberty was the norm. How does she do it? According to reports,
Paltrow said eating a "clean diet" has rubbed off on her children, Apple, 8, and Moses, 7, and husband, rocker Chris Martin.

She credits her low-carb, gluten-free, no sugar diet with saving her life and marriage. She said her "clean diet" helped relieve her pent up "unexpressed anger" and gave her a more peaceful outlook on life.