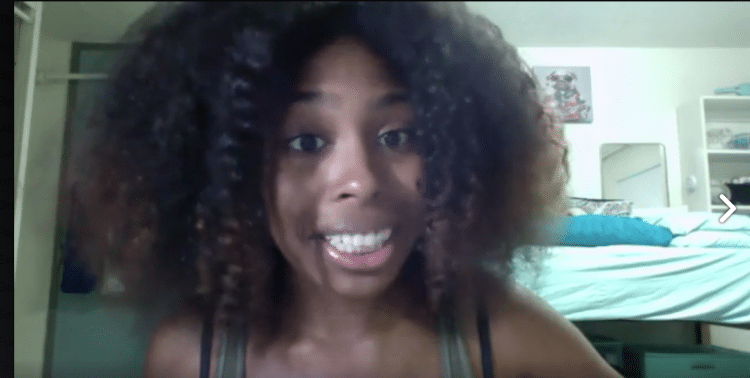 The story is developing, but a young, black University of Hartford student reported on her Facebook page that the school administration ordered her to keep silent about an incident involving her roommate, who is white. The roommate, unknown to us at the moment, systematically worked to push Jazzy Rowe out of the dorm by rubbing bloody tampons on her backpack, putting moldy, spoiled food into her beauty products, and polluting her toothbrush with harmful bacteria, which may have cause a chronic infection. The roommate gleefully reported all her pranks on Instagram, in which Jazzy later discovered when she arranged to move out of the dorm. In the Instagram post, the bully announced that she's finally gotten rid of "Jamaican Barbie."
Jazzy went to the campus administration and they arranged a "not contact" order between the two young women, but later told Jazzy that the matter had been "dismissed" without any update about disciplinary action against the girl who harassed her. Out of frustration with the administration, Jazzy issued a plea that has been shared on Facebook thousands of times. "If the situation was reversed, and it was a black person who did this, I can't help but wonder how this would be handled," she says.
Perhaps it's time for some of us to contact the University of Hartford, and ask them why they're making this young girl feel like she has absolutely no recourse from someone who basically was poisoning her.
Additional Contact Information
General Info
[email protected]
860.768.4100
Stories like this make me fume and make me sad. Some white women have a cunning so foreign to black women that cultural differences don't allow us to recognize it. While black women express their anger outward and obviously, white women are often quiet, deliberate, and silent in their hatefulness. When confronted, they often play innocent and count on the assumption that their "white purity" will give them the benefit of the doubt. I honestly didn't know how expert many were at this level of bullying, but…let's just say that the movies like Mean Girls, Cruel Intensions, and Carrie don't come from nowhere. Young black girls and women unaccustomed to this level of bullying hardly see this coming, and it's deeply wounding. I've been a victim of it more than a few times.
If anyone has an update on this story, please update us in the comments.
UPDATE: According to the latest reports, the perpetrator, Brianna Brochu, has been arrested. A university representative made this statement:
Upon learning of the incident, Public Safety immediately ensured that the victim was relocated to a safe location, notified local authorities, and provided support for their investigation. The accused student was subsequently arrested by the West Hartford Police Department and her case will proceed through the legal process. The University will continue to precisely execute our defined process outlined in the Code of Student Conduct.

The University strictly and swiftly followed all procedural and legal processes related to this alleged event; claims to the contrary are based on misinformation. The incident has brought about accusations of racism, and I want you to know that I hear and share your anger and frustration. Acts of racism, bias, bullying, or other abusive behaviors will not be tolerated on this campus. I pledge to do everything in my power to work with our community to address related concerns together.
Follow Christelyn on Instagram and Twitter, and subscribe to our You Tube channel. And if you want to be a little more about this online dating thing, InterracialDatingCentral is the official dating site for this blog.