I've always got my hands in the dirt. Worms are my friends. I season my soil with chicken poop. With all that happening, more likely than not my hands look a mess. I'm going to be brutally honest though–my hands are not my best feature. So the goal is to try to make them look less hideous. So when I discovered one of my favorites–Crabtree & Evelyn–has a hand therapy collection, I was intrigued.
The La Source Collection promo-stuff: "Crabtree & Evelyn La Source products draw inspiration from the restorative powers of the sea. We've utilised these invigorating powers and infused them into our La Source hand and foot products. They are formulated with a blend of ingredients such as algae, mineral salts and seaweed to restore, condition and rejuvenate. As your hands and feet are pampered, the sea air fragrance of La Source will transport your mind to a tranquil summer vacation destination."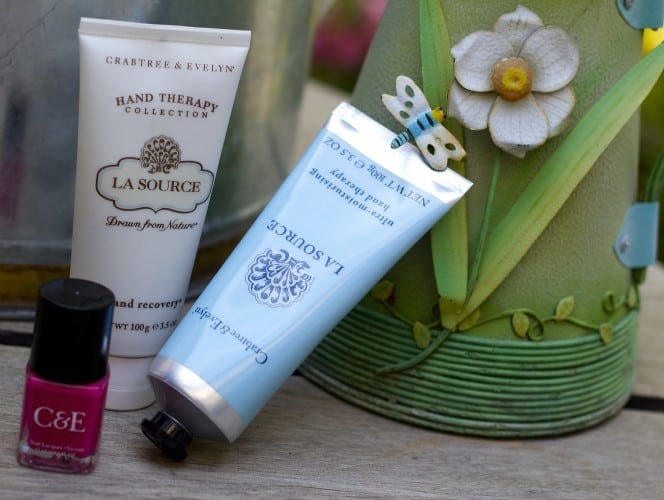 I don't know about the scent tricking my mind into thinking on vacation, but the smell really is incredible. If light blue had a smell, this would be it. The standout is the hand recovery formula, which is a mechanical exfoliator with shea butter, seaweed extract and lots of other stuff. I washed the worms and chicken poo off my hands and then applied a dime-sized amount and rubbed it in…it felt so good and left my rough hands really smooth. I finished up with the ultra-moisutrising hand lotion and the hot pink nail polish. And about the polish! I'm surprised C & E went there, but I'm glad they did. Whoever the manufacturer is, they didn't skimp on quality. You get a nice, rich glossy coat on the first application. My only complain is that the brush is a little narrow.
Here's the end result…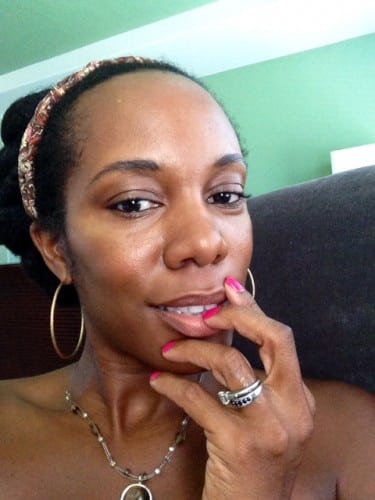 For the collection, click here. If you like the color, click here.