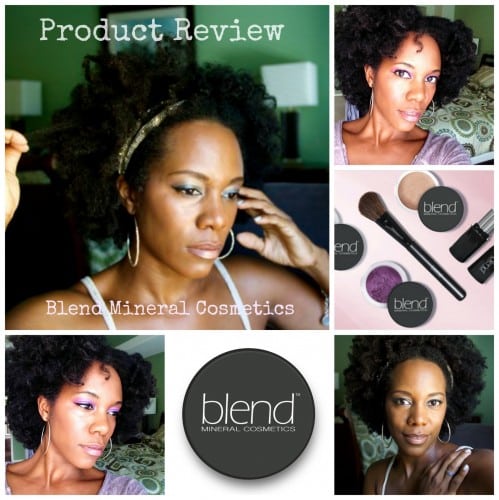 I knew I was on to something when you all asked me about what product/shade I was wearing when I did the You Tube video on staring yesterday. I decided to go really daring and incorporate my two favorite colors–pink and purple on my eyes using a mineral make up powder I had tried for the first time.
This obviously is a risky venture, because I've seen more women looking like clowns trying this look. After interviewing many make up artists, I've learned that darker skinned women CAN wear color that can look amazing if applied properly and has the proper undertones compatible with your skin. I have yellow undertones, so neutral and gold tones look best on me. And because I'm pretty conservative, I keep my lips light and pale if I go bold with the eyes.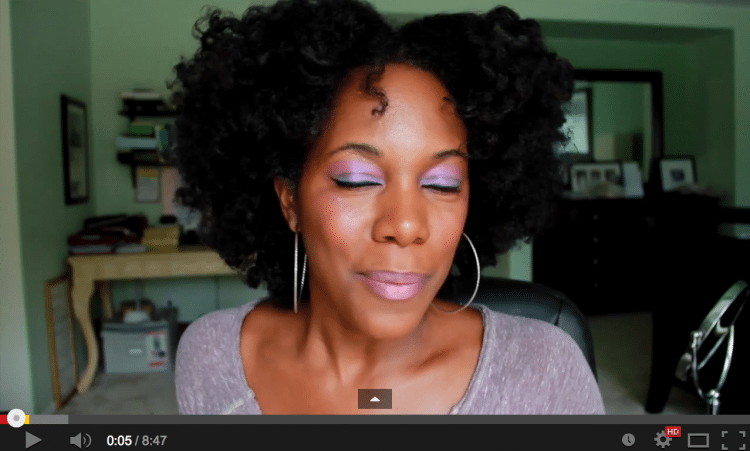 The Product: BLEND MINERAL COSMETICS
I stumbled upon this cosmetics manufacturer quite by accident. They had a fire sale for their line on Hautelook one morning, and I'd noticed the deep, deep discounts–$15 for a set of colors previously sold for $80 or more. The price was affordable enough for me to take a chance on it, and I'm so glad I did!
About the Line:
Products from Blend Mineral Cosmetics aren't just natural, they are 100% natural. The difference is in the ingredients. You won't find a trace of fillers, alcohol, bismuth oxychloride, talc, dyes, oils, additives, sulfates, preservatives or parabens in our products. We go beyond natural to give you products that are free from animal testing.

What you get is 100% natural, hypoallergenic, blends made from zinc, magnesium and natural mica that are purely good for your skin, products which work with the natural oils in your skin to provide flawless coverage.

There's a reason you are seeing more natural makeup on the market, it's simply good for your skin and millions of women know it! When you choose Blend Mineral Cosmetics, it's a beauty secret you can feel good about too.
Beyond natural… 100% natural
Cruelty-free
Fair trade products made in the USA
Green (Recyclable)
SPF-15 for full spectrum UVA and UVB protection
Hypoallergenic
Anti-oxidant
Anti-inflammatory
The set I ordered came with four colors, "glitter powder," which works as a primer and to affix the pigments and application brush. The fixative works quite well, and I experienced no stray powder on my upper cheekbones to have to sweep away. But the shimmery looking powders aren't just for the eyes–the pigment works all over. You can use them as lip color, cheek color, even nail polish!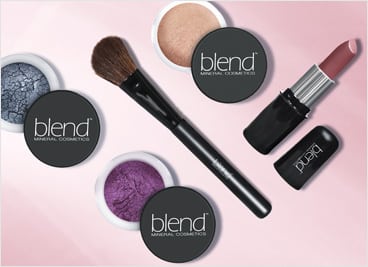 For the purple/pink look: I used Shimmer Powder 13 (deep purple) and Shimmer Powder 41 (hot pink).  I applied number 49 on my lower lid and the pink on the upper, unmoving lid. The topped the look with some gold eyeshadow I had from SMASHBOX.
For the silver/gold look: For this look, I used Shimmer Powder 49 (silvery slate blue) and gold eye shadow from SMASHBOX. I applied number 49 on the lower lid, and filled the middle lid with a deep gold, and topped the space above my brows with an even paler gold.
Here's the final product of my gold/silver look…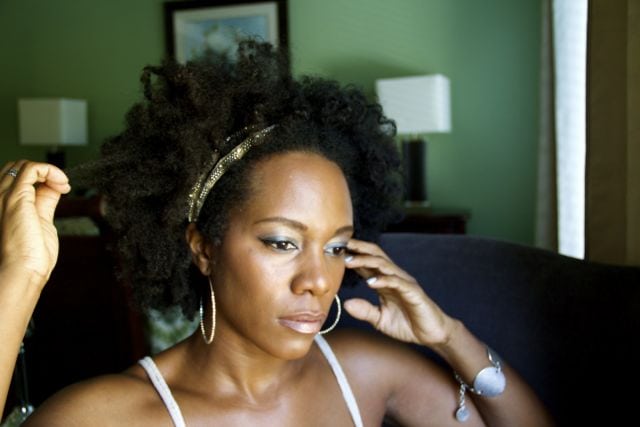 I've learned the importance of blending so the lids transition on a gradient. The BEST blender brush I've EVER used is one made by MAC, and looks like a toothbrush. It makes blending two colors virtually effortless. It's the Oval 3 brush, and retails for $32.