I met A'leia and David through a mutual Facebook group, and became a fan of their YouTube channel. I've included the link below. (Be sure to watch their balloon challenge!) We had such a lovely conversation. I hope you enjoy their interview!
How has your family reacted?
A: My family had no issues with it at all. When I met David's mom, she gave me a big hug. We all have a great relationship.
D: I have heard of other people having problems, but that didn't happen to us at all. Race was not even a question for our families. 
A: I really appreciated how my mother-in-law and I connected. She would ask me questions about my hair, or something that she wanted to know more about. It was more of a curiosity thing. Things have been fine.
How have your friends reacted?
A: When we got more serious, we introduced our friends to each other and started to hang out all together. Our friends have been really supportive.
D: I played basketball growing up, so I made friends with people from all backgrounds. Race was never an issue with our friends, especially here in LA.
A: Here, you have the chance to make friends with people from everywhere. Our friends are of every race.
Is dating interracially a new dynamic for you?
A: I have dated outside of my race. I never sought it out. This time, I just happened to meet a person who is different from me. 
D:  Race or ethnicity was not important to me while dating. I wanted to see who I meshed with. I spent more time growing up with different people, so I let myself be more open to anyone who could be right for me. 
What are some of the expectations you had before your relationship?
A: We were really clear about our expectations straight from the beginning. When things became more serious, we talked about what we did and did not want in a relationship. We found that we both wanted a serious relationship, with marriage and kids. We did not want to waste anyone's time; so we decided to discuss it all upfront. 
D: We were really honest from the get go, and it all worked from there.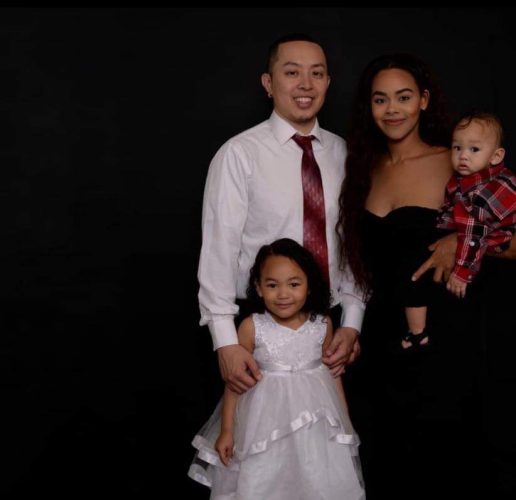 What are some of the things you do to keep your relationship growing?
D: Honesty and communication are key. I'm more stoic, but A'leia has helped to pull that out of me. She showed me how to tap into my emotions. Nowadays, I can communicate my thoughts and feelings to her more. We connect much better that way. 
A: I am definitely more blunt and direct with what I want and where I am going. We always seemed to know what the other person was thinking.
I found you both because of your YouTube channel. Why did you decide to start one?
A: We tried to a long time ago, but I had hyperemesis gravidarum during both of my pregnancies with Ayla and Deveraux.  We had to put it off. We started this channel because we wanted to capture precious moments with our family and share them with the world.
Do you feel that your channel provides representation for you and couples like you?
D: We also wanted to promote interracial relationships and couples. Black women and Asian men can be in relationships together. Asian men can be looked at as the least desired racial group, but I wanted people to see where we can go in the future.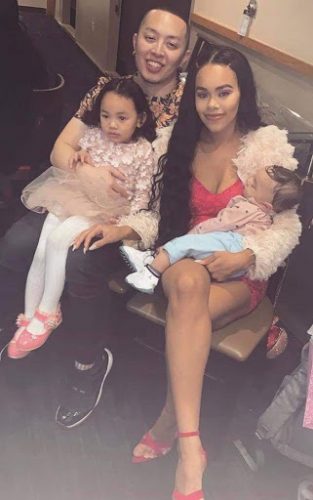 Where do you see your channel going?
A: Right now, we are on a bit of a break from our YouTube channel, but we want to continue to capture moments with our kids. Our daughter likes to go back and watch these videos. We want to create more memories like these. 
D: We have been doing a  lot of video challenges, but we want to expand the content we have on our channel. We want to do more skits, share our routines, and tackle new challenges. 
A: We want to be more involved with our audience and really connect with them.
D: People are already contacting us. They want to see more from us. We even receive requests and suggestions from them on what to do next. We want to get consistent with more of our content, to keep people interested.
What advice would you give to others?
D: Just be yourself. Do not base your personality on the person you are interested in or change it to suit them. Do not put on a facade. It throws people off. 
A: You want to attract the right person for you and what you want. What you put out is what you get. 
D: Just let people know if you want a serious relationship or a hookup. When you are clear with your expectations, you connect with the right people for you. 
You both come from very different cultures. What do you do to embrace each other's cultures and learn about about it? 
D: We are interested in other people's cultures and we love to share new things with each other. For example, I introduced her to sushi.
A: I didn't eat meat, as I chose to go vegan at eight years old. However, our first date was at a sushi restaurant. I'm transitioning back to vegan now, but I love Asian food. I love cooking; I can cook anything. I can even make sushi now. 
D: She's introducing her food to me now. I'm more interested in Creole foods like jambalaya, gumbo, and other Cajun-style dishes. I love learning more about her culture.
Is there anything else you would like to share?
A: Be upfront in what you want. Put your best foot forward and be positive. Once you're in that relationship, keep your lines of communication open. Do not try to change someone: you knew who they were at the beginning. Do not try to make them fit your mould. People have to work on themselves for the relationship to work. The person you are with is not your project. Choose the right one for you from the start and you will have a better chance at success. 
D: To any Asian guys listening: do not be afraid to get yourself out there. Approach girls. Shoot your shot.Talk to people. 
A: Be polite and be respectful though. Your approach can make or break your chances. 
Thank you so much for reading this article. That is all for this couple. Feel free to connect with David and A'leia's social media below, as they are up and coming YouTubers!
YouTube Family Channel 
https://www.youtube.com/channel/UCB5LbPKW-3rSlvkTEl_ixQw 
David's Social Media Channels 
Instagram : https://www.instagram.com/davidvuong_/ 
Twitter : https://mobile.twitter.com/dv3__ 
A'leia's Social Media Channels 
Instagram : https://www.instagram.com/aleiaalexandriavuong/ 
Personal/Beauty YouTube channel  : https://www.youtube.com/channel/UCEPgX4wYjK8p_60L9iAzRgQ