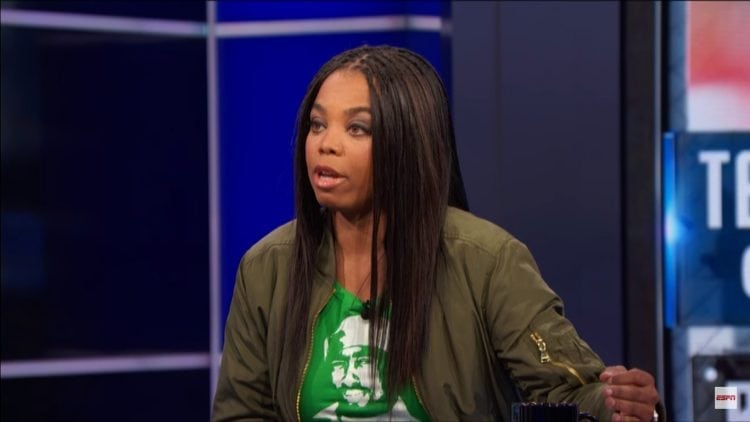 Let me first open by saying that I am no fan of Stacy Dash. Frankly, she confuses me. She seems a bit…"off." But I have to jump in to give my two cents that sports caster Jamele Hill, who seems to be doing her VERY BEST to martyr herself and lose her job by her constant racial commentary. I've been mostly unbothered about it  till now, but her seeking out Stacy Dash because it appears she might be in a black movie produced by her cousin is just tacky and constitutes bullying.
From Madame Noire:
Sportscaster Jemele Hill finds it funny how Stacey Dash can now be apart of an upcoming black film but when it came to black matters she was against us. Stacey Dash is supposedly slated to star in her cousin Damon Dash's upcoming film Honor Up alongside Cam'ron. Hill called the Clueless actress out in a series of tweets saying that Dash was running back to black culture to find some work after being against us during her tenure at FOX News.
What is it about black folks with absolutely no power to enforce such things coming out and saying that if you don't tow the party line you will not be welcomed back to Big Mama's House? Back from what? Were Stacey and Jamele shopping or drinking buddies or something? What, exactly, can Jamele or her ilk DO to her?
But that doesn't keep them from trying. Stacey is black, and she will BE black, whether you like her politics or not. She will BE BLACK, no matter how stupid you think she is. You, Jamele, are not the gatekeeper of blackness, and you'd do well to watch how much you get involved in these issues before ESPN grows tired of you. Because the same black community you're caping so hard for right now aren't going to have ESPN money to pay you like that. How is it appropriate that the company allows this foolishness? This is straight up bullying. She is using her sizable platform to shame another black woman and get a Scooby Snack and a pat on the head! She's no better than a high school mean girl, and black media has been been lapping it up like the eager gang who loves to gather for a good roasting. I'm looking at your Madame Noire. I see you, The Grio. How immature are all of ya'll?!
It's 2017, and there is NO RULE that says that black women must be the Borg Collective, and it's high time that we should SHAMING each other for not doing what the collective says we should. We all got to eat the same? Listen to the same soul-killing music? Like the same kind of men? Cackle to the same jokes??
Listen…the black community as a collective threw me out a looooong time ago. Apparently telling black women they should expand their options and choose character over color and maybe think first about having illegitimate babies without a father will get your black card permanently revoked.
But guess what? I'm still married and have a great family. I still have friends who love me. I still have meaningful work that literally changes people's lives for the better. My family still loves me, and I'm still invited to all the barbecues. I have absolutely no care to give about what random black folks say about whether I or Stacey are "worthy" to be associated with blackness. What has that membership really gotten us, anyway?
It's enough that black men attempt to bully and guilt black women to fall in line, but let's not forget the BLACK WOMAN who is there, always watching, ready to enforce the interests of the black collective, which is often in service to black men over black women.
Follow Christelyn on Instagram and Twitter, and subscribe to our You Tube channel. And if you want to be a little more about this online dating thing, InterracialDatingCentral is the official dating site for this blog.