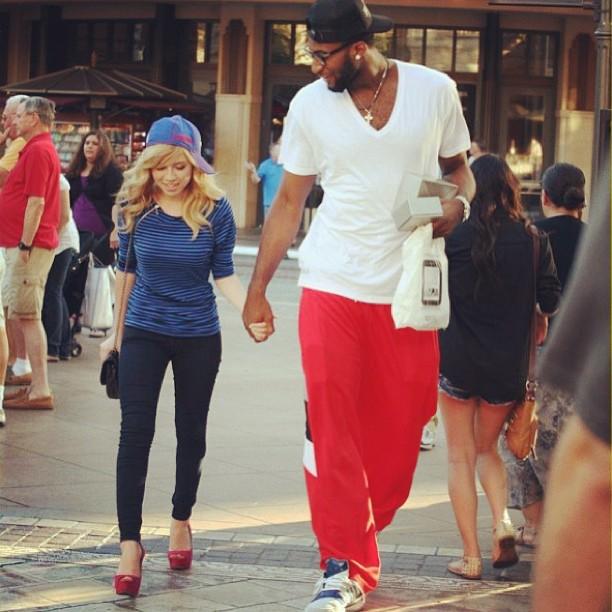 There's a lesson in here somewhere, I'm sure of it. Jennette McCurdy, co-star of the hit Nick show, Sam and Cat, got a rude awakening after she messed with the wrong baller by publicly criticizing his (lack of) sexual prowess. After McCurdy publicly shamed Drummond's kissing skills and lack of romantic game, a racy photo of her magically appeared and was distributed across the internet. Of course, Drummond denied leaking the photo, despite McCurdy's claim that she intended that photo for just one person (Drummond).  Then there was a subsequent tweet exchange between her and her bosses.
The relatively tame photos of Jennette — who is 21, and if you are a millennial who made it to 21 without taking a sensual pic, congrats on being a Luddite — she said they were intended only for one person. On March 29, she didn't attend the network's Kid Choice Awards and tweeted that the network had put her in "was put in an uncomfortable, compromising, unfair situation (many of you have guessed what it is)." She later added, "My previous tweet had nothing to do with pics leaked.oh you guys lol." [SOURCE]
Looks like all the drama has resulted in her hit show not being renewed for another season.
Let's go over the lessons here, lovelies, as there are many.
LESSON I: The internet is forever. Sending half nekkid photos to guys you barely like probably isn't a good idea.
LESSON 2: Stop listening to modern feminists who are pushing the whole "slut shaming" and female sexual ratchetry agenda. That type of thinking will get you fired. And good look getting them to march in protest for you after shit goes down.
LESSON 3: Never, ever, ever, ever, EVER criticize a basketball player's kissing game. EVER.
LESSON 4: Never wear stilettos with a baseball hat.