Before I give you the details about this gorgeous couple, you'll have to endure my commentary on how social media has made the world smaller. I met Jenese through our mutual friend, Jenn Jackson, at her going away party last month. We instantly hit it off. I loved how sweet, bubbly and humble she was, as well as admired her incredible beauty. She showed me a photo of her new hubby, and my oh my…he was FINE! We ended the evening promising to stay in touch, and memorialized the day with this photo…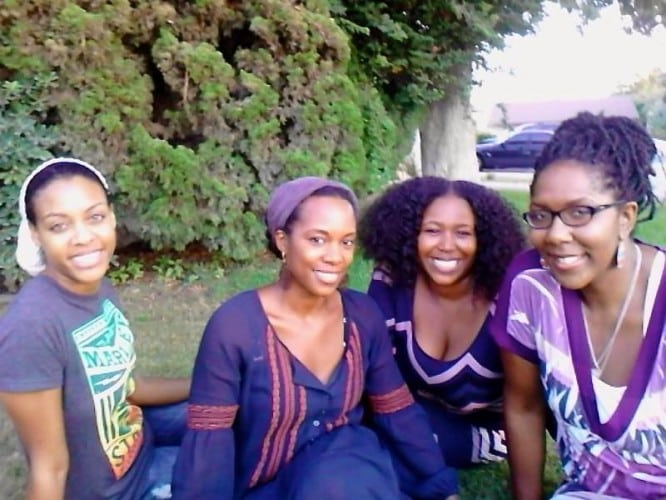 We made friends on Facebook, but hadn't spoken much. But today Jenese sent me this message…
OMG!!!! I'm just putting this all together now, so embarrassed!! Okay, so almost 5 years ago, my husband (then boyfriend) and I were figuring out if and how we could have a relationship with 3k miles between us. I also was concerned about what it would mean to be in a interracial relationship since this was my first one. He pretty much always dated outside his race, so I was the newbie. I searched the net, looking for intelligent conversations about "swirling" in the 21st century, especially about a Black woman and a White man. I visited your blog time and time again, loving the perspective, gaining confidence in my own feelings, no longer feeling alone. Then fast forward to meeting you at Jenn's going away party, and she mentioned that you were the "sheeiiit" with a famous blog, etc., but I never put two and two together because she never mentioned specifics!! LOL!! WOW, so let me just say now, THANK YOU!! You really helped me a lot as John and I reconnected as our love continued to grow. Keep doing what you are doing, LOVE IT!!
Oh…awesome sauce. Love that this community precedes me! So now you know the background, take a read at how they met:
"The Story of Us…"
Jenese's version –
Even though it may seem like our journey is only a few years old, our love story began back in the Summer of 2001!
We met on the set of the movie, Minority Report, both of us working as background players, a.k.a., extras. HA! It was my first professional job with the agency I just signed with, but JT already had years of experience under his belt. They had us all in one giant room at a rec center in Georgetown (Washington, DC) and from the moment we sat down, JT and I couldn't stop staring at one another. Our call time that morning was 4am and they did not release us until about 5 or 6pm, so we had tons of time to check each other out, but both us trying to play it cool. Once we were released and everyone was walking back to their cars, I hear a voice behind me saying, "Wait…Miss..hold UP!" I turn around and there he was, actually talking to… me! I tried my best to be cool, I'm sure I failed miserably! We exchanged information and shortly after set up a date. Our first date is STILL the best first date I ever had, I felt like I was floating the whole time. And our kiss under the full moon while sitting next to the Baltimore harbor was an amazing way to wrap up the evening. I'm usually against kissing on the first date, but when I saw him moving closer, I couldn't help myself! We continued to talk to one another over the phone for months afterwards until life basically took us in two different directions. JT went back West to chase his dreams of playing professional baseball with the Dodgers and me back to start my Junior year at Howard University.
Fast forward to July 26, 2009 and my Facebook page says I have a new message from a "John". I did not put 2-and-2 together right away because he was going by "Jonathan" when we met. JT had recently joined Facebook and decided to look me up and sent me a message. I stared that message and re-read a million times. It just CAN'T be him, right? RIGHT??! Indeed it was and we started to catch each other up on all we had done in the past 8 years. The Facebook messages turned to emails that turned into text messages that turned into phone calls that turned into 5 hour phone marathons… It became clear pretty quickly that the feelings we had for one another were still very much there and were growing. But how could we know for sure with me in VA and him in CA??
Months and months pass with not a word between us as we tried to determine the best way to handle what was clearly happening between us. Were these feelings real or a fantasy? Then one day, I get a short message from JT checking in with me. I was happy to hear from him, but cautious. A little more time passed and we were back to talking to one another all day, everyday. Finally, we couldn't take the distance anymore and I flew to CA for a visit. Remember, the last time we saw one another in person was 2001. I get off the plane and head toward baggage claim after having a complete freak out in the ladies room. I was SO nervous. I make a wrong turn and when I spin back around, there he was with open arms. I literally walked into his embrace. Ladies, I know you understand what I mean when I say I "exhaled"!!! In that moment, I knew right then, this is the man I want to spend the rest of my life with.
He set up an interview with his talent agency during my trip to see if I could obtain Commercial representation and they signed me on the spot! After such an amazing time together, we knew we did not want to spend another day apart. So, wait, now I have the opportunity to continue my performance career, the career I've always wanted, on a real professional level AND the man of my dreams are both in Southern California?? I prayed to God to send me a sign, a CLEAR sign letting me know if this was the way He wanted me to go. Well…I got one! I had been driving the same car for a few years before JT and I reconnected, but never really paid any attention to my liscense plate. A few days after my prayer for a sign, I just happen to notice that my license plate reads: "JST-4553″. It was like a bolt of lighting me — "JST" = JT's full name, John Scott Thomas, "4553″ = add up to 17, JT's number when he played ball and the day of his birth (12/17/76). THANKS God, looks like I'm moving!! So after a few more visits within a 3 month time frame, I was packing up all my earthly belongings and moving to California. We've been in a state of bliss ever since.
Not a bad story, huh?! Just like a movie script…
John + Jenese Wedding Highlight Film from MFB Entertainment on Vimeo.
John's version –
So, my whole life I've been focused and career driven, very serious about being successful. At this particular point in time, I was living in Randallstown, MD as my home base, but would split time between Baltimore, DC, and New York pursuing my Acting/Modeling career. I was cast as an extra in a Steven Spielberg movie starring Tom Cruise called "Minority Report". I was ecstatic to be paid to be on a movie set all day. I was waiting to be called for the next scene and during this time all of the extras would congregate in a decently-sized waiting room. I will never forget the moment I noticed from across the room an undeniable attraction to this girl standing on the other side of the room. I had to know who she was. I like to think I'm 007, secret-agent-smooth but I could not keep my eyes off her and I am sure I was obvious. We exchanged a few glances and smiles but I didn't have the chance to talk to her until the end of the day as we were walking to the wardrobe trailer. She was approachable and easy to talk to, I knew instantly she was special. A rare gift. We went on one date where we just talked for hours. I was relieved that she was as genuine as I originally thought and we connected more and more with each word we shared. It was truly a very special night and we seemed very close to God and each other. We both went back to school and work and as life happened, 2 months later I moved back to Los Angeles to continue my career pursuit. Little did I know, it would be 9 years before I ever saw her again and that one date would become the standard in how I evaluated a "connection" with someone I was dating. It left an imprint to say the least.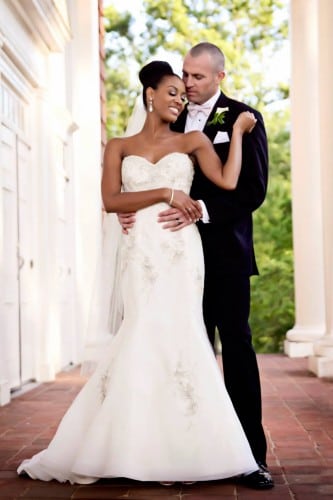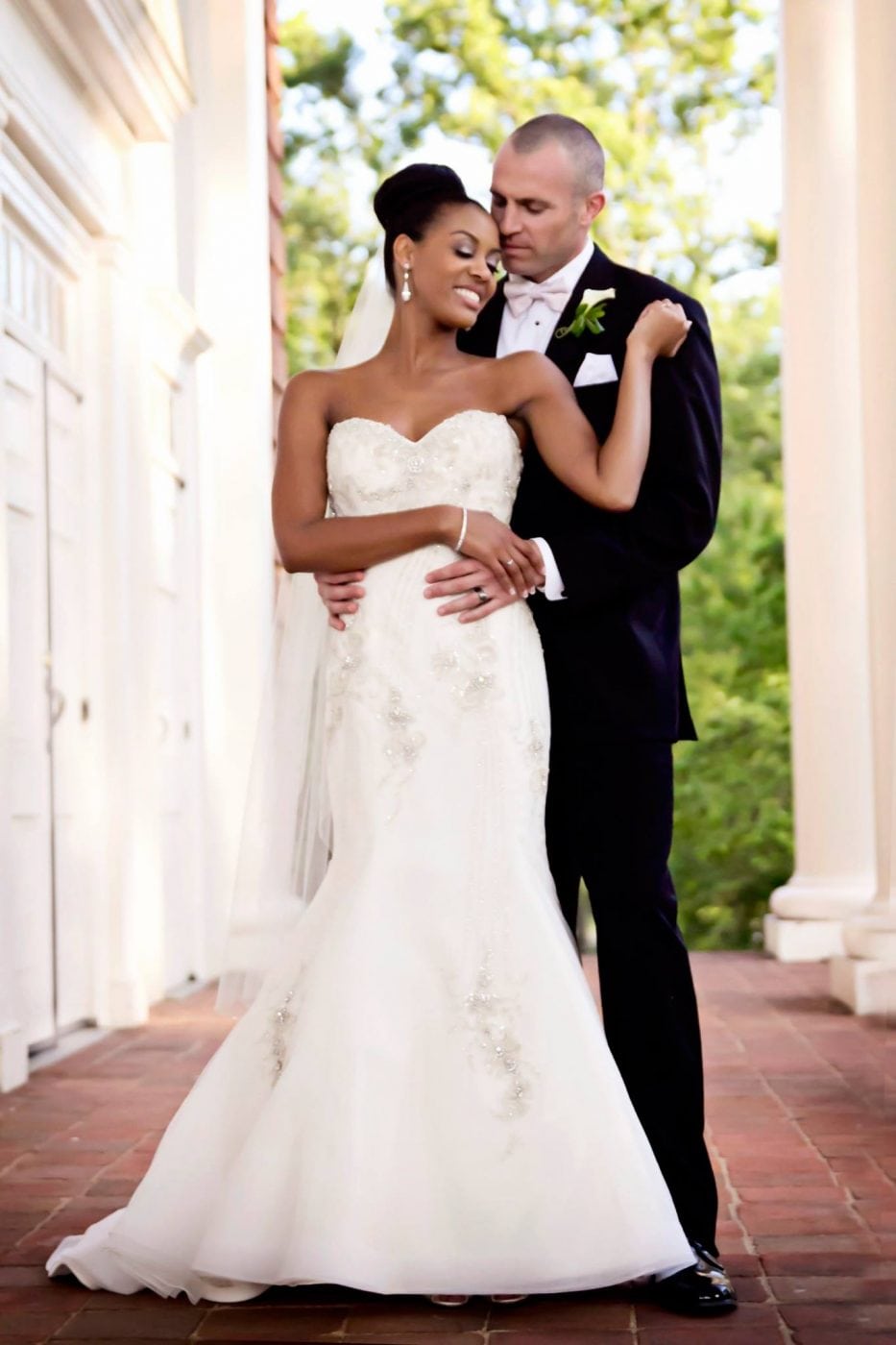 I'll never forget the feeling of my heart sinking into my chest the moment I searched for and found a picture of Jenese on Facebook (of all places!). She was holding her God-Daughter (Jelani, now one of our Flower Girls) and I immediately had a vision that this was my Wife. I was amazed at how intense my feelings were even after all these years. I had to send her a message to at least say "Hello"'. Come to find out, the magnetic attraction I felt for her was mutual and I couldn't believe that this was the same girl I met in 2001. Well, after reconnecting and getting to know each other again via text messages, emails, and phone calls, we both decided that we had to see each other. We were dying to see if the powerful emotions we were experiencing were indeed real and not just some hopeful connection. I remember scheduling her flight and the day I was to pick her up from the airport, I'd never been so nervous. I must have washed my hands 5 times waiting for her flight to arrive because my palms wouldn't stop sweating! When I finally saw her coming down the escalator, I noticed she went the wrong way. So, as I was walking over in her direction, she realized she should've went right instead of left, and turned around and walked right into my chest as I wrapped my arms around her and got the best hug ever! It was surreal that I was hugging this woman I knew 9 years earlier (as a girl). I hardly remember the walk out to the car as it felt as if we floated there. I had a bouquet of tulips for her on the passenger seat with a card that read, "Welcome Home". We decided to follow our hearts and together is where they landed us!
Wedding photos courtesy of https://www.qiananicolephotography.com