They say you a girl looks for the type of man that reminds her of her father. Well, my father Big Jessie was, big, standing at 6'2 so tall men have always been a preference of mine. There's nothing sexier to me than an extended version of an attractive man and with an athletic long and lean body to gave at, I'm sure I'll find some fellow fans of this weeks Man Candy Monday.
Wiki says Colin Rand Kaepernick (born November 3, 1987) is an American footballquarterback for the San Francisco 49ers of the National Football League. He played college football for theUniversity of Nevada (Reno)Wolf Pack. At Nevada, Kaepernick twice was named the Western Athletic Conference Offensive Player of the Year, and he was the Most Valuable Playerof the 2008 Humanitarian Bowl. In the 2011 NFL Draft the San Francisco 49ers selected Kaepernick in the second round with the 36th overall pick.

Colin Kaepernick  is a quarterback for the San Francisco 49ers and that may mean something to others but for me I just know that he wears those cute tight sexy pants and he runs very fast. His 6'3 length of stride have taken him to become the 2nd draft of pick of the 2011 season. He's got a very impressive career as both a football and baseball player.

His presence definitely fits the theme of this site, as Colin was born to an unwed teenage mother who placed him into adoption, he's also of mix race background. He's able to show commitment, ladies, as he's kept a pet tortoise since childhood that has now grown to weight 115 pounds. The animal lovers and commitment minded folks will love this little nugget of factoid.

Large hands, long legs, and a back that is both big and broad enough to supply piggy back rides when the mood calls for it. That's what I love about a large built man. There is power in the body and that translates into a good thing. You never know when you'll need your significant other to turn into a Gladiator or superhero. It helps if their physique goes with the imagination. I know they say you can't judge a book by its cover so a large man isn't supposed to be translate into each and every body part but its okay to dream, isn't it?

He's been photographed with a multitude of beautiful BROWN women, and has actually been part of an internet buzz concerning he and Sanaa Lathan. Apparently, the 25 year old was moved to IG some cuddle selfies of he and the 43 year old actress. The media is trying hard to determine what cocoa complexion woman has his heart these days.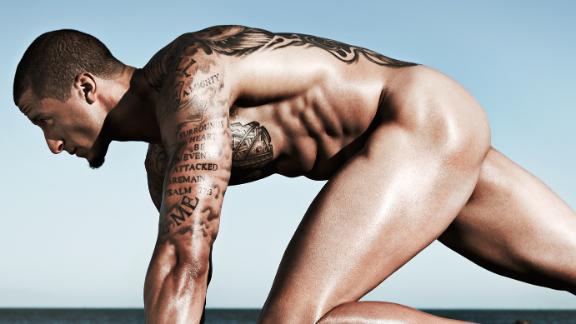 Nevertheless, I know the Jets are all over the news this morning due to their recent win last night and I tried to find a Jets player but you know when it comes to sports everyone has an opinion. Mine is that Colin's induction into Man Candy Monday is much more important to the well being of woman kind. But that's just me.
If Colin ever wanted to play a few games of catch, I'd have no problem with his punting me the ball. I'm not sure what punting is, but I'd be more than happy to learn, you're never too old to learn new 'moves', right?

Until next time, ladies.