Girl meets Boy
Inspiration: Menswear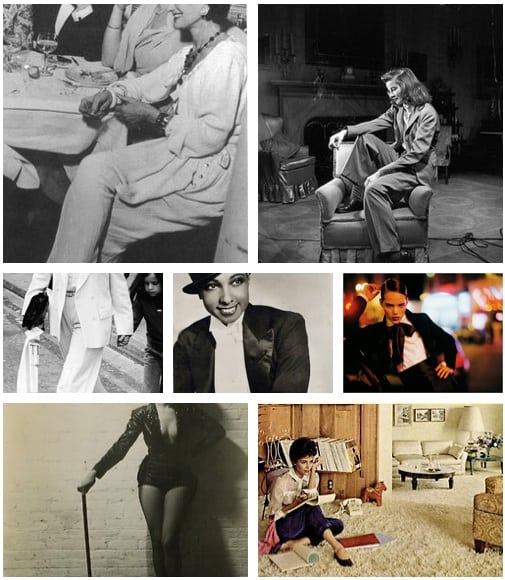 There is something quite sexy about a feminine woman dressed in menswear. Thanks to Coco Chanel, this trend has been a mainstay since the 1920s when Coco was seen dressed in her boyfriend's clothes.
Here are ten must have menswear(inspired) items that every girl needs in her closet this Fall.
H&M
jacket
, 61,720 KRW /
Boyfriend jeans
, 62,385 KRW /
H m
, 16,905 KRW /
Wingtip oxford
, 67,850 KRW / Jeffrey Campbell
high heel
, 158,265 KRW / Michael Kors
gold tone jewelry
, 282,715 KRW /
Long silver ring
, 135,705 KRW /
Linen herringbone suit vest
, 144,750 KRW /
Chambray narrow tie
, 67,285 KRW / Tom Ford
fragrance
, 231,825 KRW /
What they are:
1.  Boyfriend Jeans:
Gone are the days of the too skinny too tight jeans and enters a blast from the 50s past, boyfriend jeans. These jeans are slight baggy, broken in, well worn and smells like the one you love. They are great rolled up or worn plain, dressed up or casual. In essence they are perfect and quite feminine, depending on how you wear them.
2. Tweed Smoking Jacket:
This jacket is a throw back to the time when men would go to smoking bars to hang with their bodies, drink whiskey, smoke cigars and either talk shop or about a hot little number they have just met. The contoured waist is perfect on a woman, giving her an automatic hourglass figure and it goes great with everything; skirts, jeans, pants and shorts. The elbow patches gives it an air of sophisticate refinery. Whatever the occasion this is a classic must have for any lady's closet.
3. Wedge tasseled loafers
These cute men's tasseled loafer inspired wedges are just sex-y on heels. Wear them with your boyfriend jeans, tweed shorts, pencil skirts or wide legged pants and you will always look put together.
4. Boyfriend's Dress Shirt
Is basically what it says. A men's dress white shirt. Goes well with jeans or skirt. Classic or modern, with a tie or scarf. This is classic for work, play or sexy time. Whichever way you go, there's nothing like a crisp white shirt to make a statement.
5. Men's Waistcoat (Vest)
This is a great way to dress up any outfit including jeans. Is sassy and sexy all at the same time.
6. Chambray Tie
This tie is playful and doesn't take itself seriously. Its quirky and just plain fun. Draped loosely or worn properly this screams–fun-loving and carefree.
7.  Brogues
Because they are just hot.. Need I say more?
8. Tom Ford's Tobacco and Vanille
This scent smells like sex in a cigar smoke filled bar and whiskey. Despite that description, its subtle in an in your face kind of way, leaving those you pass by intrigued. I recommended this scent to BBAW member Karla and she raves about it. A bit expensive but worth every penny–a little goes a long way.
9. Men's Watch
A bit gaudy but sexy all the same. An oversize men's watch worn by a woman, makes a statement. It says "I'm a sexy woman and I know it. I'm on the move, catch me if you can."
10. Two finger Ring
Not brass knuckles, that's a bit rough and tumble, but a two finger ring can make the statement that you are a modern edgy chick that is willing to take chances.
I hope this list helps you prepare your Fall wardrobe as the hot sticky sunny days of summer fades into crisp air and apple pie scented candles!!