Nashé and John recently responded to a request I made on social media, for couples to share their stories. Thank you for participating! I hope you enjoy hearing about their love.
What are your names?
I'm Nashé and this is John. I am 25 and he is 50.
How did you meet?
We met when we were both working at a local store. When I first laid eyes on him, I thought he was the most beautiful and handsome blue-eyed man I'd ever seen. It was like we were magnetic to each other. 

What are your cultural/ethnic backgrounds?
We are both American. I was born in New Jersey and he was born in the Bronx.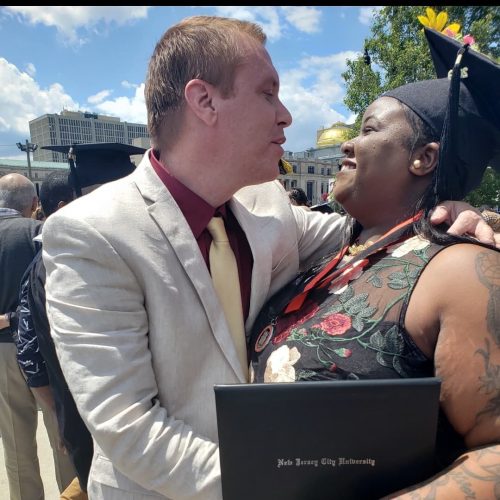 Did either of you find the dating process challenging?
Dating came to us naturally. We have both dated outside our race many times before.
Where are you now in your relationship?
We met in October of last year, had our first date on December 15th, and have been in the honeymoon stage ever since!
When did you know it was going somewhere?
I knew he was the one from the moment we talked. He was so open and understanding. 
Do you feel that your location is really welcoming of interracial couples? If you live in the US, which region or state do you live in?
Yes, we live in a pretty multicultural area of New Jersey. 
What is your ideal date?
An idea date for us is cuddling on the couch, as  we both work a lot. Any down time together is special. 
What is the best thing that you like about each other?
The best part about being together is that I get the nurturing of a more seasoned man. I am in a relationship that is secure – I have never had this before. 
What is your favourite shared memory?
Our favourite shared memory is our first vacation together in May of this year to Otter Banks, North Carolina.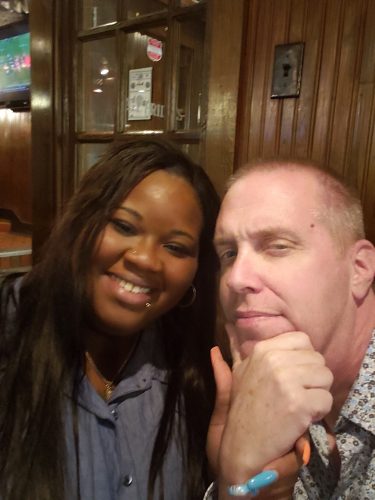 Thank you so much for reading this interview! That is the end of this couple's feature. If any of you are interested in participating in this series, please leave a comment below or connect with me or Christelyn Karazin. You can e-mail me for an interview at [email protected].