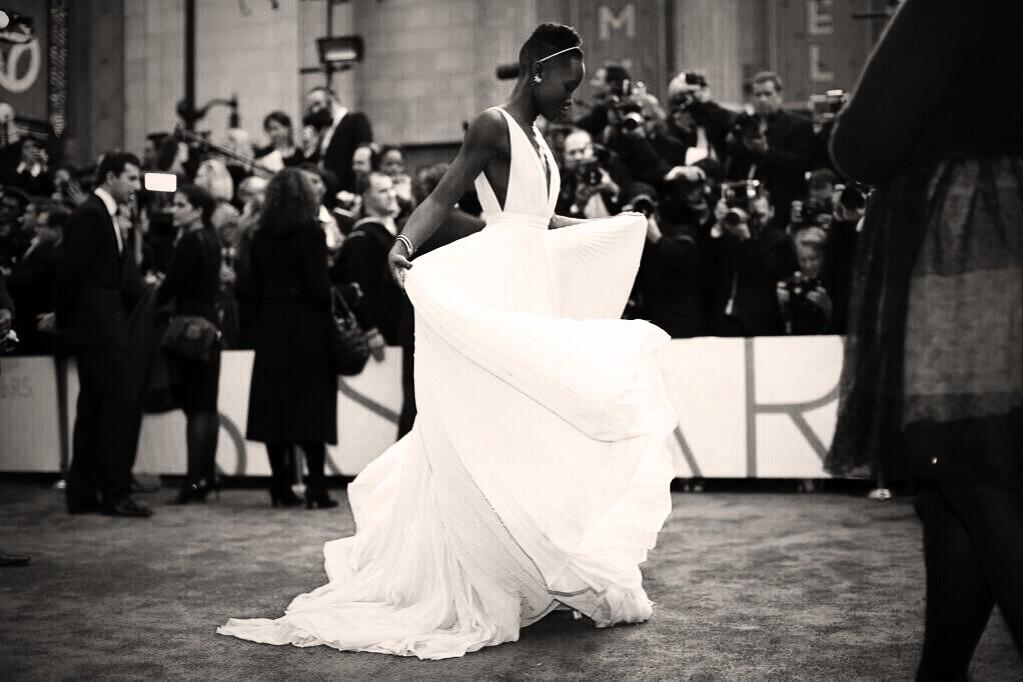 Your dreams are definitely valid, and everyone dreams of the Oscars. As America and the rest of the world gather around their TV sets to see what beautiful frocks the ladies and gents on the red carpet will wear, amazingly talented people prepare to be rewarded for their honest work. In which case, the Oscars and dare I say Spring fashion preview, do not begin on the runway, but on the red carpet.
When we gaze admirably at the beautiful gowns, what we may not know is that those gowns give us a sneak peek into the color palettes that will be available to us in a matter of weeks.
The Best Dressed Winner: A Star and Color Are Born
The deserving Oscar winner and break out fashion star, Lupita Nyong'o stunned in this fit for a princess 50s styled Prada gown for which she dubbed the color 'Nairobi Blue.' This color was already fit for production and to be in demand for spring, but now it has a name, #NairobiBlue. Lupita also made headbands the 'new' big thing this season.
NAVY
Navy is a classic alternative to black and it absolutely stuns on the red carpet. It gives off an air of royalty and a bit of rebellion against a sea of black. From Alfre Woodard in Escada to Amy Adams in Gucci and Sandra Bullock in Alexander Mcqueen, navy will be the new richer less starker black.
JEWEL TONES
Usually reserved for fall,  rich vibrant jewel tones will be dazzling us this Spring. From emerald green to Tanzanite purple, take a cue from dazzling ladies Viola and Kerry who never fail to inspire us and get some jewel hued pieces in your closet this spring.
BARE NAKED PASTELS
Nude and pastel pinks were definite stars on the red carpet as well as on the Spring 2014 runway. If you truly wish to tap into your frilly girlie side, definitely try nude or pastel pink this spring.
POPPY RED & PERSIMMON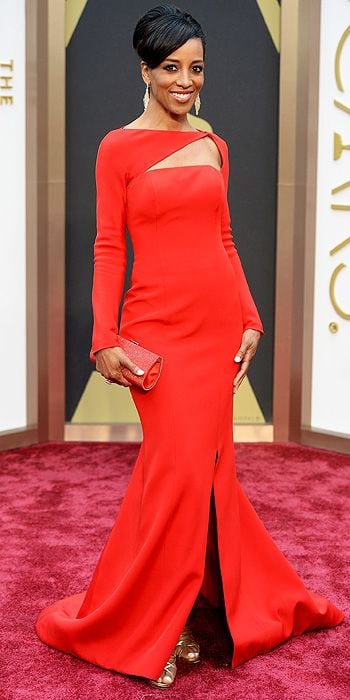 These two gorgeous, in your face, I'm not afraid of anything, colors are definite must haves this spring. Coming out of a dark moody broody palette, poppy red and persimmon are instant pops of color that help transition your wardrobe.
METALLICS AND WHITE
I am a big fan of white. It makes everyone look amazing. It ranges from being ethereal , if you combine it with silver or gold, or kick ass when you deck yourself from head to toe in it, Switch of The Matrix fame, anyone? Either way white will take you the distance. Metallics are always spring/summer staples and they look fresh and new when mixed together–silver with gold and copper– or with opposing colors white and black.
ALWAYS CLASSIC BLACK
You can never go in wrong black, it's not a classic for nothing as they say. This is the go to color when you wish to express refinery, elegance, strength and power. Black should always be a staple, no matter the season in your closet. However, to make it fresh the season, combine it with a shimmery silver to give it added value.
I hope this Oscar post has helped you transform and transition your winter wardrobe. Now you may ooh and ahhh over these fab frocks!