Written by Nicole J.
If you've recently embarked on your Pink Pill journey and want to add some makeup essentials to your repertoire, I've got you! Sephora's summer sale is going on now, with some coupon codes for a little discount:
Rouge members (>$1000 in a calendar year) and VIB members ($350-$999 in a calendar year) get 20% and 15% off respectively with the code SUMMERSAVE from now until August 27.
In addition to the essentials of primer, foundation and powder, a reliable selection of eyeshadows, blushes and lipstick can elevate any look. Items like highlight and contour are nice to have, but not required for a full face. Plus, if you're a beginner, it would be better to master the basic application skills before progressing to more advanced techniques. To keep with the pink theme for Pink Pill for College Girls' launch next week, here are some cruelty-free pink toned makeup recommendations suited for women of any shade, but particularly my fellow melanin-kissed sisters.

This 14-pan eyeshadow palette has been in my rotation since its release back in 2016. It contains beautiful shades of varying tones of pink, shimmery champagnes, and earthy browns in satin, metallic, and matte finishes. You can create a whole host of different looks for every occasion you can think of with the palette alone. Every day work look? A couple swipes of 'Antique Bronze' is perfect for a subtle wash of color suitable for the office and beyond. Big night out? A combination of Raw Sienna, Realgar, Venetian Red and Primavera will create a sultry eyeshadow look. The possibilities are endless with this palette in your arsenal.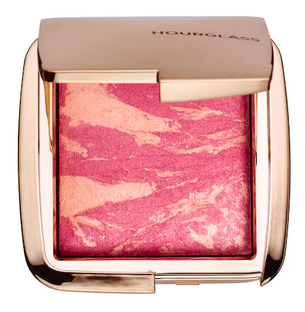 Hourglass products are known for their high quality and luxurious application, and their selection of blushes is no different. Shimmery blushes don't take much to go overboard, so be sure to use a light hand when applying to create the effect of gently pinched cheeks.
A cheaper, yet similarly pigmented (non-Sephora) blush option is Milani Rose Powder Blush in Tea Rose. At only $9, it's a bargain!

Source: Milani Cosmetics
I'm not much of a pink lipstick wearer, as plum and deep berry tones are more my speed. However, when the mood for a pink pout strikes me, Rihanna has never let me down. If liquid lipsticks aren't your thing, ColourPop Cosmetics (though not included in the Sephora sale) also has a whole host of shades and formulas to pick from, at a wallet-friendly price point. My fave traditional (bullet) lipsticks from them are Heart On and I Heart This (with a darker red liner).
Do you have any Pink Pill makeup recommendations? Or, are there any makeup-related posts you'd like to see in the future? Share your thoughts in the comments below!